Health & Grooming
Wondering if your dog is the right weight? Eating the right sort of kibble? Check out these articles to get best practices on raising a healthy and well-groomed pup.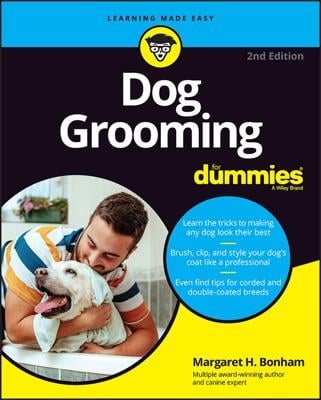 Health & Grooming
Dog Grooming For Dummies
Make your puppy look as perfect as you know they are When Fido is getting a bit too fluffy and Milo is downright mangy, it might just be time for a trim to get your pup looking their best. But where do you even begin? Dog Grooming For Dummies walks you through exactly how to groom your dog so they come out looking like they could win an award at the American Kennel Club, every time! You'll learn about prepping your canine for the shears, bathing your dog, cutting and brushing fur, all without help from a professional dog groomer. From the most down-on-their-luck rescue dog to pampered designer doodles, you'll discover how to use the latest equipment and supplies to get people asking, "Did you get a new pup?" (Nope! They just look like one!) In the book, you'll get: A totally revamped section on the impact of canine nutrition on your pet's coat New information on how to go about hiring a professional dog groomer and what qualifications you should look for Practical and hands-on advice on becoming a mobile, professional dog groomer A fantastic and page-turning read full of step-by-step explanations, product suggestions, tips, and techniques, Dog Grooming For Dummies is the one-stop resource you need to stop chasing your tail and start washing, cutting, and styling your pooch into perfection.
Explore Book
Buy On Amazon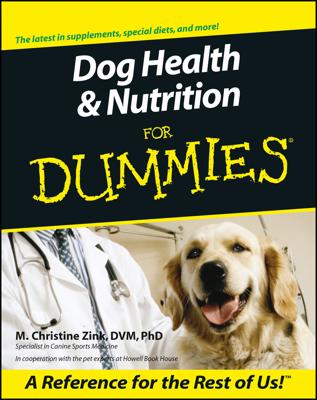 Health & Grooming
Dog Health and Nutrition For Dummies
You do everything you can to maintain your optimum health. Doesn't your best friend deserve the same? Your dog's a member of the family and needs the same attention to health and nutrition as you do to stay healthy, be happy, and live longer. However, it's easy to get lost in the pet store's sea of dog products, passing aisle after aisle of dog food. Keeping your dog healthy or getting her back on the road to good health doesn't have to be difficult, though. Dog Health and Nutrition for Dummies makes it easy to make sure your canine is living a healthy lifestyle. It gives you expert tips and advice on: Basic canine healthcare Feeding your dog Recognizing and treating common maladies Caring for the canine senior Author M. Christine Zink, DVM, PhD is a specialist in canine sports medicine and professor at The Johns Hopkins University, but above all, a dog lover. She breaks down the complexity of caring for your pooch into easy terms with helpful reminders, warnings, and information, including information about: How to choose and work with a vet Your dog's anatomy with detailed illustrations Canine first aid Drug therapy for dogs Maintaining your dog's health with nutrition and exercise Common household hazards Dog Health and Nutrition for Dummies gives you all the information you need to properly care for your beloved canine pal.
Explore Book
Buy On Amazon