How to Set Up New Files in Quicken 2015
How to Set Up New Files in Quicken 2015
As part of setting up Quicken, you create what Quicken calls a file: a place where Quicken stores all your accounts (bank accounts, credit card accounts, investment accounts, and so on).
You can have more than one Quicken file at any time. Most people won't want to do this. But you can (for example) use different files to keep your personal financial records separate from business financial records.
To set up a new file so that you can create accounts in it, follow these steps: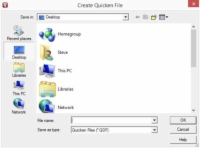 2

Select the New Quicken File option button and then click OK or press Enter.

Quicken displays the Create Quicken File dialog box.
3

Enter a name for the Quicken file.

Position the cursor in the File Name text box and type some meaningful combination of letters and numbers. You don't need to enter a file extension because Quicken supplies the correct file extension — .qdf — for you.
4

Choose an appropriate file location.

Tell Quicken where you want to store the Quicken data files, using the Save In drop-down list box at the top of the dialog box.
5

(Optional) Sync the new file with the Quicken Cloud.

If prompted, provide your Intuit ID so Quicken can sync the new file with any mobile device you've indicated that you want to use.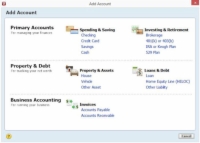 6

Add an account.

When Quicken displays the Add Account dialog box so you can add at least one starter account to the new file, click the hyperlink that references the type of account you want, and then follow the by-now-familiar onscreen prompts to add the account.
7

Run Setup.

After you complete adding a new account (or possibly two), you see the Home tab. Click its Get Started button to finish setting up the new account.