Quicken
Quicken is a super popular home accounting solution that tons of people use to run their small business or keep track of home budgets. Check out our articles on how to get the most out of your Quicken installation.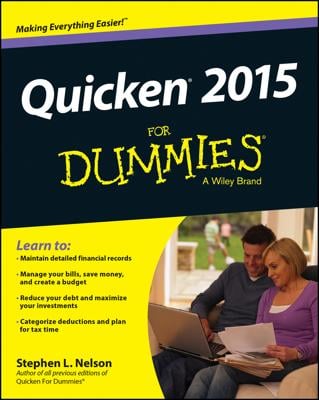 Quicken
Quicken 2015 For Dummies
Take control of your personal finances with this popular, easy guide! Quicken is the country's most popular and highly recommended personal finance software, and with Quicken For Dummies, you can harness the power of this practical financial tool to manage bills, reconcile bank accounts, track investments, and much more! Personal finance expert and CPA Stephen L. Nelson lends his expertise to this accessible, easy-to-read guide, which has been fully updated to reflect the new features of Quicken available in its newest version. You can quickly learn how to use Quicken to record credit card transactions, track mortgages and other liabilities, minimize taxes, maximize savings, maintain detailed records, and build a solid foundation for creating better financial plans. Covers updated features in the newest version of the increasingly popular Quicken software Empowers readers to fight the bad habits and decisions that lead to large debts and minimal or nonexistent savings Demystifies the software's features for tracking everyday finances, managing investments, and evaluating the tax implications of financial decisions Offers invaluable advice and expertise from author Stephen L. Nelson, a recognized authority on personal finance Every step toward better finances is a step in the right direction. Let Quicken For Dummies start your journey toward increased savings, lowered debt, and a more secure financial future.
Explore Book
Buy On Amazon