How to Set Up Multiple Banking Accounts in Quicken 2010
How to Set Up Multiple Banking Accounts in Quicken 2010
When you first began working with Quicken, you were prompted to set up a banking account. You probably set up your most active bank account (usually a checking account). If you want to track any additional accounts — for example, a savings account — you must set them up, too.
To set up an additional checking, savings, or money market account, you give the account a name and then its balance as of a set date.
2

Click the Add Checking Account or Add Savings Account button.

The Add Account buttons appear a little way down the Setup tab page, so you may need to scroll down a bit. When you click this button, Quicken displays the Account Setup dialog box.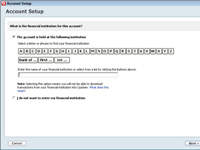 3

To identify where you're banking, enter your institution's name in the Enter the Name of Your Financial Institution or Select from a List by Clicking the Buttons Above text box.

Alternatively, you can select the I Do Not Want to Enter My Financial Institution radio button if you want to go fast or skip the intrusive questioning.
4

Click Next.

In the new screen that appears, Quicken asks whether you want to download account activity and balance information directly from your bank or enter the information manually.
5

Indicate that you don't have a username and password, unless you already know how to use online banking, and click Next.

The next screen appears.
6

If Quicken asks, indicate that you want to enter transactions manually.

Quicken asks the "manual versus online" questions if you select a financial institution that allows for online banking.
7

Name the account, and then click Next.

Quicken displays the Enter the Name You'd Like to Use for This Account dialog box.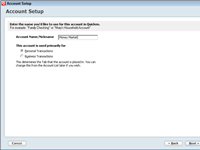 8

Move the cursor to the Account Name/Nickname text box and type a name in that box, then click Next.

Quicken displays the Enter the Ending Date and Balance from Your Latest Statement dialog box.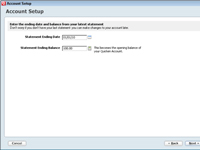 9

In the Statement Ending Date text box, type the month number, a slash, the day number, a slash, and the year number.

Quicken wants you to start your record keeping for an account on a bank statement date. If you start on July 16, 2010, for example, type 07/16/2010.

Alternatively, you can click the button at the end of the Statement Ending Date text box so that Quicken displays a pop-up calendar. Then click the date. Use the << and >> buttons to move back and forth a month at a time.
10

Click in the Statement Ending Balance text box and enter the bank account balance.

Use the number keys to enter the balance. You probably want to use the balance from your bank statement. But if you have neat, accurate financial records, go ahead and use your check register balance.
11

Click Next, and in the screen that appears, click the Done button.

Quicken re-displays the Setup tab.