How to Set Up a New File in Quicken 2013 or 2014
How to Set Up a New File in Quicken 2013 or 2014
As part of setting up Quicken, you create what Quicken calls a file: a place where Quicken stores all your accounts (bank accounts, credit card accounts, investment accounts, and so on). To set up a new file so that you can create accounts in it, follow these steps: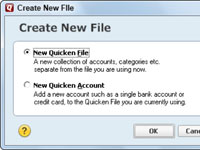 1

Choose File→New on the menu bar.

Quicken displays the Create New File: Dude, Are You Sure? dialog box.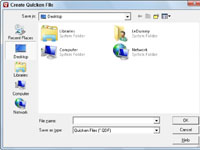 2

Select the New Quicken File option button and then click OK or press Enter.

Quicken displays the Create Quicken File dialog box.
3

Enter a name for the Quicken file.

Position the cursor in the File Name text box and type some meaningful combination of letters and numbers. You don't need to enter a file extension because Quicken supplies the correct file extension — QDF — for you.

Note: You can use the symbol characters on your keyboard, but doing so gets a little tricky. If you must use symbol characters in the filename, refer to the Quicken user documentation.
4

Use the default file location.

Accept Quicken's suggestion to store the file in the QUICKEN directory.
6

Run the Setup.

To set up the new Quicken file, click the Get Started button. You might also want to click on the Setup tab and then read through the Setup tab's information and answer its questions.