How to Set Up a Cash Account in Quicken 2010
How to Set Up a Cash Account in Quicken 2010
Quicken 2010 can help you track petty cash in your business, as well as the petty cash in your wallet, by using a special cash account. To track the cash, you must set up a cash account in Quicken 2010 and then enter the increases and decreases into the cash account's register. Setting up a cash account is simple.
1

Click the Add Account button (which appears in the lower-left of the screen). If you don't see the Add Account button, choose View, Account Bar, and then Show.

Quicken displays the Quicken Account Setup dialog box.
2

Select the Cash radio button and click Next.

Quicken asks you to name your new account.
3

Enter a name in the text box and click Next.

For example, you can enter the name Cash or Pocket Money.
4

Enter a starting date in the Date to Start Tracking text box.

Unless you have a reason not to, go ahead and enter the current date to avoid confusion.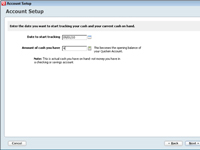 5

Type starting balance in the Amount of Cash You Have text box.

Don't include a dollar sign, but do add a decimal point for any cents.
6

Click Next.

Quicken displays a message that the account setup is complete.
7

Click Done.

Quicken displays the new cash account in a register window.