How to Schedule a Payment or Reminder in Quicken 2010
How to Schedule a Payment or Reminder in Quicken 2010
Quicken 2010's Scheduled Transactions feature can be useful in the case of a loan. If loan a payment occurs regularly, you can tell Quicken to remind you about the payment, or you can set it up as a scheduled payment. When you do so, Quicken either reminds you or automatically records the payment for you based on a schedule.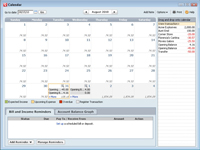 1

In Quicken, press Ctrl+K, or click the Banking tab and then click the Calendar button.

The Quicken Calendar window appears.
2

If you can't see the list of transactions along the right edge in the Calendar window, click the Options button and select Show Memorized Payees List from the pop-up menu.

The transactions list magically appears.
3

Using the left-arrow and right-arrow buttons, select the starting month for the reminder or scheduled transaction.

Alternatively, you can enter a date into the Go to Date box and click the Go button.

Quicken displays the month you want to schedule a payment for inside the Calendar window.
4

Select the transaction for which you want to create a schedule.

Select the transaction from the payee list by clicking it.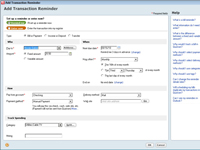 5

Drag your selection to the appropriate date in the calendar.

When you release the mouse button, Quicken displays the Add Transaction Reminder dialog box. Quicken marks the Remind Me radio button. You can select the Enter Now radio button to have Quicken enter the transaction in your register when you click OK.
6

Click the Bill or Payment radio button in the Type section to indicate you're scheduling a payment or a payment reminder.

Of course, if you were setting up some other type of transaction reminder, you might choose something else, such as Income or Deposit, or Transfer.
7

Verify that the Pay To and Amount fields are correct.

They probably are. But it never hurts to check.
8

Verify that the Next Due Date text box shows the correct date for the first payment.

If it doesn't you can easily change it by typing in a new date.
9

If this is a recurring payment, use the How Often text box to specify how frequently Quicken should remind you about this payment.

If you want to get really crazy, use the option buttons and text boxes to more precisely specify when you want to make payments or be reminded about payments.
10

Select the appropriate account from the Pay from Account drop-down list.

You can also specify the payment method and the check delivery method.
11

If you're scheduling a reminder for a transaction you've already correctly recorded once, check the Category, Tag, and Memo fields.

You don't want to have Quicken copy some old error you made. The Tag field appears only if you've enabled the Show Tag Field option in the Register section of the Quicken Preferences window.
12

Click OK.

Quicken adds the payee's transaction to the Calendar.