How to Print Your Quicken 2010 Check Register
How to Print Your Quicken 2010 Check Register
You can print a check register or a register for any other account that you keep in Quicken 2010. Quicken even makes the process of printing an account register easy.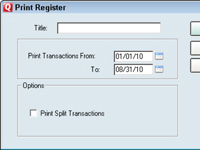 1

Click the Accounts bar hyperlink for the account, then click the Account Actions button and select Print Transactions from the pop-up menu that appears.

Quicken displays the Print Register dialog box.
2

(Optional) Enter a register title in the Title text box.

Quicken prints this title at the top of every page of the register.
3

(Optional) In the Print Transactions From and To text boxes, type the range of dates the register should include.

Make this specification only if you don't want to print the entire register.
4

(Optional) To print the split transaction information, select the Print Split Transactions check box.

Selecting this option includes categories, memos, and amounts for any split transactions in the print-out of that register.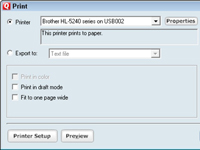 5

Click Print.

Quicken displays the Print dialog box If you want to print a register pronto, just click OK. Otherwise, carry on with the rest of these steps.

The rest of these steps are optional. Do them if you feel like it.
6

Select an option from the Export To drop-down list.

Your options include Text File, Tab-Delimited (Excel Compatible) Disk File, or 123 (.PRN) Disk File.
7

Select the Pages option button, and then type the range of page numbers you want to print.

You can use the Print Range option buttons and text boxes to limit the pages Quicken prints.
8

Specify the quality of print you want.

If you have a color printer and want to print your register in color, select the Print In Color check box in the Print dialog box. Or you can select the Print In Draft Mode check box to tell Quicken it should print faster and spend less time worrying about the quality of the printing job.
9

Click the Fit to One Page Wide check box.

Quicken prints the register information so that it fits across the width of the page
10

Click OK.

Quicken finally prints the register. You get a hard copy of the same account detail information you see on the Transactions tab.