How to Use EDGAR to Find Investment Banking Information
How to Use EDGAR to Find Investment Banking Information
One of the greatest things about EDGAR is that it contains just about every piece of investment banking data on publicly traded companies (those that have stock that trades on a public exchange) and firms that have sold debt to the public.
But the second best thing about EDGAR is the fact that it's free. And even though EDGAR is operated by the government, you don't have to wait in line to use it. In fact, you can use it right now.
The EDGAR database is extremely easy to use, once you figure out where to go and what to do. It all starts at the SEC's website. Instead of giving you theoretical instructions on how to find a company filing, you can discover how to do it using a typical situation.
Let's say you're an investment banker who's trying to help a midsize healthcare company sell itself to a larger company. Your client wants to sell the company, rather than pursue an initial public offering, because there are other rivals working on similar technology. A delay in getting to market could mean the company could lose market share and not reach its potential.
That's your challenge. You now need to start your research on companies that may be interested in making a deal. As an investment banker, you start putting together your short list of possible bidders, one of which is General Electric. But you can use EDGAR to strengthen your case. Here are the steps you'd follow to research one possible bidder: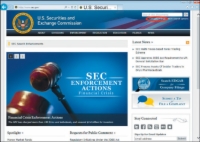 1

Go to the SEC's website. Click the Company Filings link, located just below the Search SEC Documents box in the upper-right corner.

You're taken to the EDGAR search page.
2

In the Fast Search box on the right side of the page, enter the name of the company ( in this example, General Electric) or the stock symbol if you know it (  in this case, GE ).

Click the Search button.
3

Click the See All Company Filings link.

A giant list of all the company filings that are in EDGAR appears. With a company the size and stature of GE, there are, not surprisingly, all sorts of filings.
4

Look through the list and start thinking about the filing with the information you seek.

When examining whether a company may be a potential buyer, what you want to know is how important the target's industry is to the possible bidder (in this example, GE). GE has a large business unit that serves the healthcare industry. Getting the full details on the importance of an industry to a company is exactly the type of thing a 10-K is for.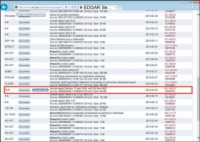 5

Look through the list of results in the EDGAR database until you find the 10-K listing.

This could take awhile. Edgar is a huge database.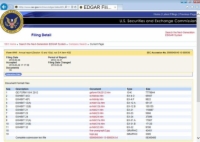 6

Click the Documents link for the filing you're interested in.

You're taken to a listing of the data inside the 10-K filing.
7

Select the actual Form 10-K.

Don't be confused by the variety of documents. You want the Form 10-K, not one of the accompanying exhibits.
8

Drill down and find the relevant data.

After opening the document, it's time to start sleuthing. Be sure to use the search function on your computer to find keywords. With a little bit of searching, you'll soon find that GE describes its different industry units in a footnote (a detailed piece of financial data that doesn't fit in the financial statements).

Specifically, in this case, footnote 28 is the one to home in on. This footnote, called "Operating Segments," describes GE's healthcare unit, including the products it makes (such as magnetic resonance imaging and computed tomography devices).
9

Do the analysis.

Scroll down even further in the footnote and you'll see a financial breakdown of all GE's business units, including healthcare. It turns out, GE's healthcare business hauled in $18.3 billion in revenue in 2012, making it the company's third largest of eight business units.

That's a significant fact and tells the investment banker that healthcare is of interest to GE. In fact, the healthcare unit grew by just 1.1 percent in 2012 — that's pretty slow growth, especially compared to the 14.8 percent growth in the transportation unit. Perhaps a manager of GE's healthcare unit would be up to discussing a merger that could reignite growth for them.

These steps are just a hypothetical example, but they give you an idea of how the EDGAR database can be tapped to glean financial insights about companies of importance to investment bankers.