Yoga and Pilates Exercises to Boost Your Metabolism
Yoga and Pilates Exercises to Boost Your Metabolism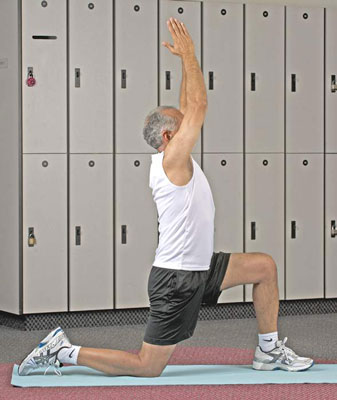 14
Sun Salutation
The Sun Salutation is a series of poses which helps get your body warmed up and is a good one to do first thing in the morning, before any workout — or any time you need a full body stretch.
Starting position: Kneel on the floor and bring your left foot forward so its flat and bent at a 90 degree angle, with your thigh parallel to the floor.
Lift: Touch your palms together and lift your arms straight up. Engage your abdominals and keep your shoulders down and back.
Stretch: Look to the ceiling as you stretch upward with your upper body and shift your weight to your front thigh. Repeat with your right leg forward.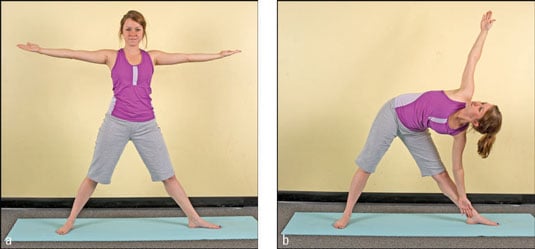 24
Triangle Pose
This pose is one of my favorites in yoga class. It works to stretch out your abdomen and spine.
Starting position: Stand with your feet much wider than your shoulders and place both arms out to your sides, palms facing up, parallel to the floor.
Bend and stretch: Keeping your legs straight and hips facing forward, bend at your waist to your right side. Slide your arm down your right leg and hold your leg and ankle. Take five deep breaths. Lift up and repeat on opposite side.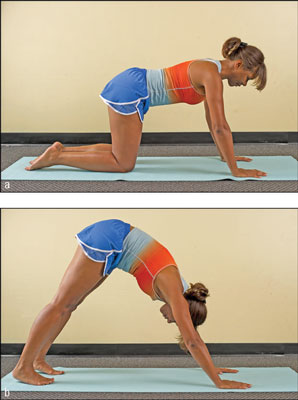 34
Downward Facing Dog
This is a restorative pose, meaning during a yoga session, you come back to it frequently to stretch your entire body.
Starting position: Start on your hands and knees. Your knees should be directly under your hips and your hands slightly in front of your shoulders.
Lift: Slowly lift your knees away from the floor and lengthen your tailbone up until your body forms an upside-down V shape.
Stretch: Straighten your knees and either keep your heels slightly lifted or place on the ground depending on your flexibility. Roll your upper arms and upper thighs inward slightly. Firm your shoulder blades together and hold the position for five counts of deep breaths. Either return to start or move onto the next pose in your yoga sequence.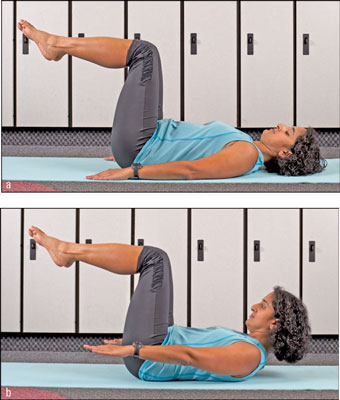 44
Pilates 100
Pilates 100 is a classic exercise that works your core better than crunches.
Starting position: Lie on your back and bring your knees to a 90 degree angle to your upper thighs. Extend your arms along your sides, palms facing down. Pull your belly in and inhale.
Round up and pump: Exhale and slowly begin to round up to bring your chin towards your chest. Lift your arms about three inches off the floor, keeping them straight and rigid. Pump them up and down repeatedly. Only let your arms rise to slightly above your body. Inhale for a count of five and exhale for five until you reach 100 pumps total. Hug your knees into your chest to stretch.
Modification: For a more advanced Pilates 100, extend your legs out straight to 45 degrees or an even lower, more challenging angle.