How a Mass Spectrometer Locates Ions on the Mass Spectrum
How a Mass Spectrometer Locates Ions on the Mass Spectrum
A mass spectrometer can help you locate unknown ions in the mass spectrum so that you can identify them. When charged particles move through the magnetic field of a mass spectrometer, they're deflected (pulled off course) by the magnetic field; they then hit the detector, as the first figure shows.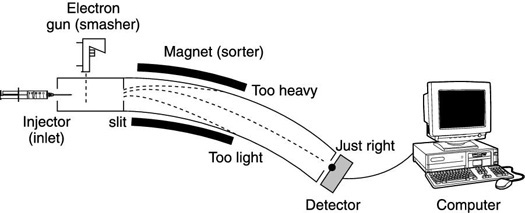 The inside of a mass spectrometer.
The number of ions that bend the right amount at a particular magnetic field strength to hit the detector is measured. On a mass spectrum, the molecular weight of the fragment (m/z) is shown on the x-axis versus the relative number of fragments that hit the detector on the y-axis (the intensity). The most intense peak on the mass spectrum is arbitrarily assigned an intensity value of 100. The next figure shows the mass spectrum for pentane.