How to Create Educational Comics with Comic Life iPad App
How to Create Educational Comics with Comic Life iPad App
Comic Life iPad app allows younger students to explore creative storytelling by creating comics. Using Comic Life for iPad, students can create comics that challenge their creativity, imagination, and language skills. Incorporate comics into your curriculum by having students relate a story, express their feelings, or discuss a historical event.
Creating your own comic is simple and requires just a few steps. To make your own comic, open the Comic Life app by tapping its icon on your iPad's home screen. Then follow these steps:
1

Tap the + icon on the opening screen, and select Create a New Comic.

The screen switches to show you templates. Swipe through the previews to see all the options; a blank template enables you to create your own style.
2

Tap the template of your choice.

Now you can choose a title for your comic, plus captions, images, word bubbles, and more.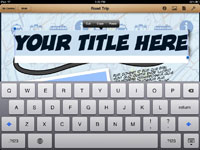 3

Edit placeholder objects.

If you selected a pre-styled template, your page will be arranged with customizable placeholders for the title, images, and text captions. Double-tap any object to edit it. You can also tap and drag any object to move it to a different part of your page.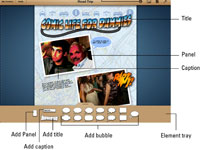 4

(Optional) Add panels for more images.

Panels are the primary objects for adding and placing images in your comics. To add a panel, drag the panel icon from the Element Tray at the bottom of the screen to any part of your page. See that little photo button in the center of your empty panel? Tap it to add an image from your photo library or take a picture with the built-in camera.
5

(Optional) Add more titles, captions, and bubbles

The Element Tray at the bottom of the screen has additional objects that you can add to your page. Tap or drag one onto your page to add; then tap again to edit it.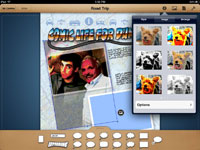 6

(Optional) Change styles with the Panel Inspector

Experiment and give your comic a personal touch by playing with styles and effects in the Panel Inspector. Tap any object on your page to select it and then tap the Panel Inspector icon on the top toolbar to change the look and feel of it.

For example, change the color and shape of your panels, the style of your titles and captions, or select an image and apply an effect to it.
7

(Optional) Add, reorder, and remove pages

Tap the Page icon in the top toolbar, and you'll see three tabs. The Comic tab shows you thumbnails of the different pages in your comic. Tap any page to make it the current editing page, and tap the empty page with the + icon to add a new page.

Tap the selected page, and a pop-up menu gives you options to duplicate or delete it. Tap and drag any page to change the order of where it appears.

The Template tab enables you to browse the predefined pages included in the template you've chosen. Tap any thumbnail to add it to your comic after the current page. The Layout tab contains predefined pages with different arrangements of panel layouts. Tap one to add it to your comic.
8

Tap the My Comics button to return to the screen with all your comics.

Your comic is automatically saved.