How should a teacher best manage iPads in a school classroom? iPad management in schools is likely to undergo some revisions soon, but these five tips should help make the task of iPad management a little easier for you in the meantime.
Place restrictions on classroom iPads
Whether you manage devices and profiles centrally or by individual device, you'll want to put some thought into how to set the restrictions on iPad use. Of course, the restrictions will be different depending on the users and what they should be doing with the iPad.
If you're assigning restrictions directly on the iPad itself, go to the Settings menu, and tap General on the left. Tap Restrictions, and you'll get the pane shown here. You'll be required to set a passcode that can be used later to change or delete restrictions.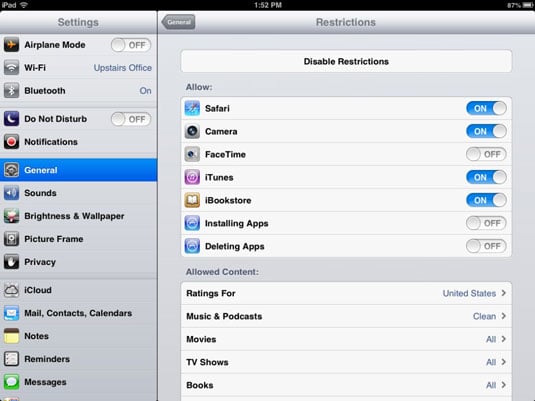 Here's a quick look at some of the most important restrictions:
Disallow apps such as Safari (in case you want to use a different, filtered browser), FaceTime, and the iTunes Store.

Disable the camera and FaceTime.

Install and/or delete apps.

Disable multiplayer games in Game Center.
You can choose to prevent changes to the following settings and accounts:
Location Services (a good idea if students are posting any data to the web that contains geolocation data, such as photos)

Mail, Contacts, Calendars, iCloud, and/or Twitter accounts
In addition, you can choose to prevent access to specific content types, such as music and podcasts, movies, TV shows, and more.
Track missing classroom iPads with Find My iPad
Activating Find My iPad can be a valuable tool for tracking down lost iPads on campus or off. You need an iCloud account to use it; then you can log in to iCloud on any browser, and it will show you the location of your iPad on a map if and when it's powered on.
Go to Settings on your iPad, tap iCloud, and enable Find My iPad. Then, if you misplace the iPad, sign in to iCloud from any web browser on a Mac or PC to display the approximate location of your iPad on a map. Find My iPad will allow you to play a beep, display a message, lock your iPad remotely, or even wipe your data off it.
Manage classroom iPad updates and synchronization
Everything changes so quickly, doesn't it? Fortunately, you have two options for syncing content such as apps, books, music, and photos:
Tethered syncing: You can sync by connecting an iPad to a computer with iTunes or connecting a cart of iPads to that computer, assuming that the cart supports syncing. Use iTunes on your computer to identify the devices and content to sync.

Wireless syncing: It's best to rely on wireless syncing only for smaller deployments because it will devour your bandwidth. However, if that's your situation, it's simple to set up, and it will save lots of time.
Here's how to set up wireless syncing:
Connect your computer to a wireless network, and open iTunes.

Tap to open Settings and then select General.

Tap the iTunes Wi-Fi option in the right panel.

You'll see a list of all computers available on the Wi-Fi network.

Select one, and tap the Sync Now button.
If you don't have iOS 6 installed, one of the best reasons to install it is that app updates no longer require an iTunes password. The huge advantage from an educational standpoint is that teachers can simply and immediately update classroom iPads as needed.
Identify your classroom iPads
Each iPad has a specific name. If you open Settings and tap General and then About, the name is the first item that appears in the pane on the right. However, when you need to quickly identify an iPad to hand out to a student, that takes too many steps. Sure, you can put a sticker on them (the iPads, not the kids!), but stickers fall off.
Some schools identify iPads by creating an image with a number on it and setting it as the wallpaper. That way, as soon as you turn the iPad on, the number shows up on the screen. A nice idea.
Why not take this idea a step further and use a little introductory lesson that is also educational? Why not use the opportunity to have the students tell you something about themselves or their interests? Have them find an image that represents something meaningful to them — a fun task that can be done at home with a parent or relative.
Use an app such as Skitch (a free art app) to combine the image with text containing a fact or some identifiable information about the image. It might be something about the student's favorite car, hero, or pet. Set the image as the iPad wallpaper or Lock screen. The students will be extremely motivated and identify more with their particular iPads.
Managing classroom iPad content with e-mail
iPads don't have a standard login or file system, so it can be a challenge moving content off the iPad for submissions to teachers or backup. One tool that's available in almost every iPad is e-mail, and it can always be used to move content whether you actually e-mail it to a teacher or to a cloud storage service.
To enable e-mail, however, you need to ensure that each iPad has an e-mail account configured. Most schools prefer to restrict that account to outgoing mail. Set up each iPad with an outgoing e-mail account create one account an a custom e-mail signature that identifies the iPad (for example, "Sent from Norwood MS, 7th grade iPad #17").
Self-management of classroom iPads
Managing tens and hundreds of iPads can be a difficult process with any tool. Some schools have decided to let older students manage the devices themselves. They are responsible for downloading and updating apps, updating operating systems, and more. Theoretically, you could still set the devices up with some limited restrictions if needed and then just hand them over to the students.
About This Article
This article can be found in the category: