How to Create an Educational Presentation with Keynote iPad App
How to Create an Educational Presentation with Keynote iPad App
Create presentations for your classroom with Keynote iPad app. Your students create Keynote presentations on their iPads for class assignments as well. Keynote presentations can later be displayed on your iPad, printed, or even saved as a QuickTime movie, among other things.
You can create your Keynote on a Mac or on your iPad. Be aware, however, that the versions of Keynote for Mac and Keynote for iPad are not the same, and you'll need to be careful to avoid potential pitfalls (such as your formatting getting all messed up) when displaying your Mac Keynote on an iPad.
1

Tap the Keynote icon on your Home screen to open the app and then tap the + icon to start a new presentation.

The screen that first appears when you open Keynote is the Document Manager.
2

Tap the Create Presentation option.

You get a selection of 12 designs. Each theme comes with a selection of predesigned slide formats that contain placeholders for titles, text, images, and more. Select the theme of your choice.
3

Add slides by tapping the Add Slide icon at the bottom of the column to add a new slide.

When you add a slide, you'll be presented with a range of slide layouts that are included with the theme. Select a layout by tapping it.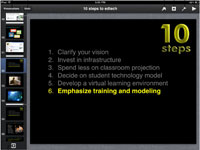 4

Organize and edit your slides.

The Navigator displays your slides in the column on the left of the editor. From there, you can tap any slide to select it.

Move a slide by simply tapping it in the Navigator and dragging it to a new location in your presentation. Move multiple slides by tapping and holding one and then tapping additional slides with another finger.
5

Add and edit text and objects such as images, charts, shapes, and tables.

Double-tap text to edit and replace it with your own. Select any text and tap the Format icon on the top toolbar to change the font and style of the text. Tap the + Insert button on the top toolbar to add text, charts, tables, shapes, or any images from your Photo galleries.

Tap to edit any object. Handles appear around the selection. Drag a corner to resize the object or twist and rotate it. Drag the object to move it to a new location. Tap any chart that you added, and select the Edit Data option on the pop-up menus to add your data to a spreadsheet. The chart will update to reflect your data.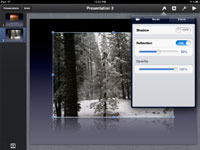 6

Tap the Format button and change the appearance of an object.

Change colors, font, and styles of text. Add shadows, reflections, and frames to images and shapes. Play with the design of your objects to add maximum visual impact to your slides.

You can make objects appear dynamically on your slide by adding animation effects. Tap an object and select Animate from the pop-up menu. Experiment with the Build In options to alter how the object first appears on your slide.

Build Out animations add a transition effect to the way the object disappears. Keynote will demonstrate the animation for you when you apply it. Click the Done button on the top left of your screen when you're done.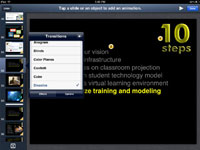 7

Add slide transition effects.

Slide transitions are effects applied to the way one slide leads into the next during your presentation. Tap a slide in the Navigator to select it and then tap it a second time to pop up a menu of options. Select Transition and experiment with the different transition effects.

Keynote will demonstrate the transition as you tap and select it. Tap the Done button on the top left of your screen when you're finished.
8

Tap the Play button on the right of your top toolbar.

The presentation plays in full screen from the current slide. Tap once or swipe left to move to the next slide, and slide right to go backward. When you're done presenting, pinch anywhere on your slide to go back into editing mode.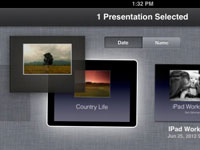 9

Tap the Tools button on the top toolbar to print or share your presentation via e-mail.

You can also copy your presentation to iTunes and then access it on your computer in Keynote, PDF, or PowerPoint format. If you have an iCloud account, you can have it backed up and synced to your other devices automatically.

Saving is the easiest part because your presentation is automatically saved for you — in the Document Manager — as you work. Drag one presentation over another to organize them into folders.