Legitimate Sites to Download Music for Free
Legitimate Sites to Download Music for Free
If you don't want to buy music or subscribe to a music service, there are some legitimate sites where you can get it for free, such as Amazon and Last.fm. Musicians should be able to determine how they want to distribute their music, whether it's for free or for profit. That said, some do decide to give tracks out for their fans and to entice others to buy additional albums or other merchandise, and there are a few places to look for those free tracks.
Web sites belonging to the artists, including their home pages or MySpace sites. Trent Reznor of Nine Inch Nails is a great high-profile example.

Record company Web sites (this is more likely for independent labels than major labels).

Last.fm — artists sometimes give permission to this legal site to allow free downloads.

Music blog and review sites like Pitchfork — you have to be careful which ones actually have permission to distribute tracks from the artists themselves, but they're out there.
You won't be finding full albums or many current tracks, but this is a good way for fans to find lost or rare tracks and for others to sample songs before they buy then.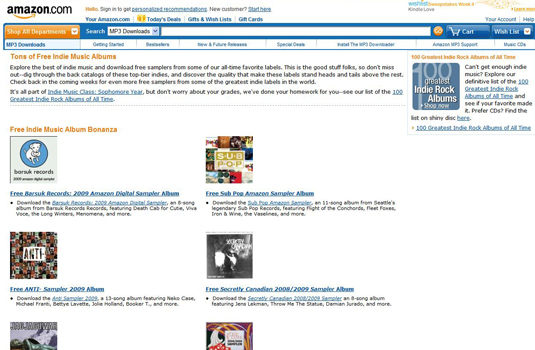 You can also search "free mp3 sampler" on Amazon and see what turns up. It's not illegal if they're giving it away. Still, be sure to buy some albums from the artists you listen to if you like what you hear. Otherwise, you're just standing in a virtual supermarket, filling up on the free samples.
The excellent independent radio station WFMU has also opened the Free Music Archive for your perusal and use. The selection is still growing, but it gives you the chance to dig through some obscure and not-so-obscure music. It also brings together several different radio stations and other sources, so you get a diverse selection. Go, download, and enjoy.