How to Use MySpace to Find Friends
How to Use MySpace to Find Friends
Friending is the underlying foundation of MySpace. Millions of users are active in the MySpace community. You can find a friend by using a direct MySpace URL, by browsing, or by searching for a user.
Locate a friend with a direct MySpace URL
Using a direct MySpace URL to locate an individual is becoming easier to do. More and more MySpace users are broadcasting their MySpace URLs though fliers, e-mails, stickers, billboards, TV commercials, and any other method of advertising and promotion. If one of these URLs catches your eye and you can remember it, plug it into your browser, and you'll be taken directly to that MySpace user's profile page.
Browse MySpace for a friend
Browsing for users is MySpace's way for you to sift, sort, and filter through the masses, making it easy to find MySpacers that you want to befriend.
To browse MySpace for users, click the Browse link at the top of your MySpace profile page and choose a Basic or Advanced browse:
The Basic option limits the browse options to sex, age, relationship status (such as single and married), reasons for using MySpace (such as dating and friends), and whether or not to return those who haven't posted a profile photo.

The Advanced option allows you to better pinpoint your search results by offering you many more search options. From body type to education level, this option is definitely for the users who know exactly who they're looking for.
After you select Basic or Advanced, you then need to select all your browse criteria and a sort method. Then click the Update button to view your browse results. A maximum of 3,000 users will be returned. You can then click any other users' names to view their profile pages. When you're on a user's profile page, you're ready to send the Friend Request on over.
Searching MySpace for a friend
You can search for users by display name, e-mail address, or school, to name a few. Usually searching is used to find a very specific person or group of people based on fairly strict search criteria.
To search for a user on MySpace, click the Search link at the top of your MySpace profile page and then choose your search method: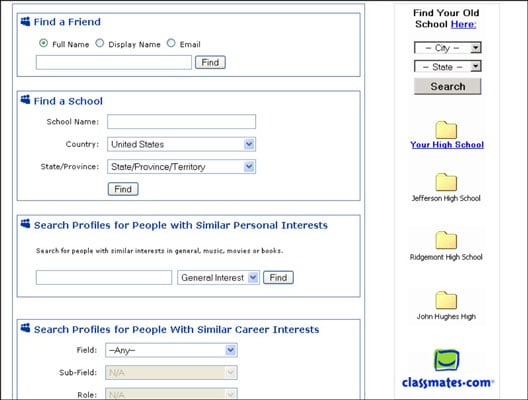 Find a Friend allows you to find someone you're specifically searching for. You can search by Name, Display Name, or E-mail Address.

Classmate Finder searches MySpace by School Name, Country, and State/Province. This is a quick and easy way to find users you know from your high school or college years.

Search Profiles for People with Similar Personal Interests allows you to search for other MySpace users by typing a keyword and selecting an area of interest to search, such as General Interest, Music, Movies, or Books.

Search Profiles for People with Similar Career Interests allows you to dig up other users who may have the same career affiliations as you do.
Then click the Find button. After you narrow down who you're looking for, click the applicable search button to see your results. After you find your needle in the haystack, simply click that person's profile link or profile picture — and you go directly to that user's profile.