How to Unblock MySpace Users
How to Unblock MySpace Users
You can unblock MySpace users from your Blocked Users list — where you can see all the users you've blocked. So, if you change your mind about who you want to keep out of your MySpace space, you follow a few simple steps.
1

After you log in, click the Edit Profile link below the greeting on your profile's home page.

In the Settings: Account window, click the Privacy link.

You see the Settings: Privacy window, where you can access the Blocked Users list.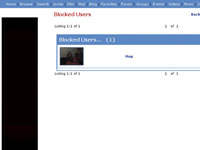 2

Click the View List link in the Blocked Users section.

When you click the View List link, you're taken to the Blocked Users window, where all blocked users are listed.
3

To unblock a user, click the Unblock User link.

All the user profiles you've blocked appear in the Blocked Users window. You can unblock a user by clicking the Unblock User link to the right of the user's profile picture; that user is instantly able to contact you again.