How to Set Up "NannyCam" Surveillance with Skype
How to Set Up "NannyCam" Surveillance with Skype
You can use Skype to set up a "NannyCam" or surveillance camera. By setting up Skype to use camera for video surveillance, your NannyCam can help you make sure that your kids at home are fast asleep by 8:00 p.m. Here are some quick and easy ways to set up a surveillance camera at home.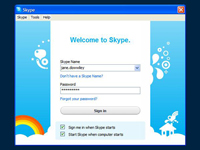 1

Create a special Skype Name for your NannyCam.

Be sure to set your Skype Sign In settings to Sign me in when Skype starts and Start Skype when the computer starts. This way, if your computer reboots, your NannyCam starts up automatically.
2

If you are already logged in to Skype, you can change these settings by choosing Skype→Sign Out from the Skype menu.

A login page appears where you can set these options.
3

After you sign in with your NannyCam Skype Name, add your regular Skype Name to your Contacts list.

The Contacts list for the NannyCam consists of only one person, you. Of course, you may want to include your spouse's Skype Name alongside yours. Whatever the case, the list is very short.
4

In your NannyCam's privacy options (Tools→Privacy), be sure to set the Only allow people in my Contact list to contact me option.

Setting this option ensures that only you and your spouse can connect to the NannyCam.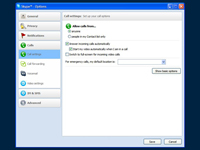 5

Click onTools→Options→Calls. Click the Show advanced options button. Check Answer incoming calls automatically and Start my video automatically when I am in a call. Click Save.
6

Test your NannyCam by connecting to it over Skype from one of the other computers in your home, or even from work. Log in under your regular Skype name and call your Skype NannyCam name.

You should see the room where your NannyCam is focused.

Be sure to adjust your webcam to point to the specific area of the room you're watching, and make sure that the lighting level is adequate. Remember, most webcams give some visual signal that they are transmitting, such as an LED that lights up. You can adjust the audio volume levels for the computer speakers next to the NannyCam so that you have a little PA system, or you can turn off sound altogether.