How to Reply to a Received Message on MySpace
How to Reply to a Received Message on MySpace
Any user on MySpace can send a message to any other user any time they feel like it; sometimes you won't be initiating the contact, but you'll be replying to it. As your list of MySpace friends grows, so will the number of messages you'll be responding to.
Follow these steps to reply to a received message: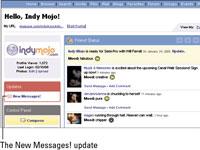 1

Click the New Messages! link in the red Updates box.

MySpace lets you know that a message is waiting in your Mail Center Inbox through updates displayed on your profile page after login. The New Messages! update will be clearly displayed in the Updates box when a new message is waiting for you. By clicking the New Messages! link, you'll be taken directly to the Inbox window of the Mail Center.
2

Click the Subject link to open the Message.

The most recently received messages will be listed at the top of your Inbox. Any new message will have a status of Unread in the Status column. Click the Subject link to open the message for reading.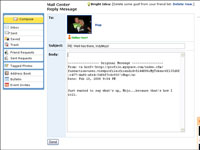 3

Click the Reply button.

By clicking the Reply button at the bottom of the message, the Reply Message window in the Mail Center will open so that you can compose a reply message. The subject line will add an RE: and the original message will be quoted in the body of the reply message as reference for the recipient. This is similar to how e-mail treats replies.
4

Compose a reply message and click the Send button.

Fill out a reply message in the Body section of the Reply Message window above the original message text. Then click the Send button at the bottom of the Reply Message window to send your reply. After the reply is sent, a confirmation message box enables you to know that it was a successful reply.