How to Initiate a Skype Call
How to Initiate a Skype Call
In order to have a Skype conversation with someone, you need to initiate a call. You can initiate a Skype call with either a previous contact or a new contact.
1

Double-click the contact's Skype Name.

Your contact's profile window appears.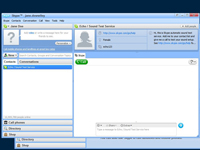 2

If you have called that person before, you can just click the green call button.

This button appears as a green circle with a white telephone handset inside. When you click it, you hear the sound of a ringing telephone, and a call window appears. The call window contains the Skype Name of the person you are calling, the photo posted in his profile, and a red hang up button.
3

When your contact answers the call, just talk!

Keep in mind that your call will not be accepted if that person does not authorize you as a contact.
4

If you have no previous relationship with the person you are trying to call, a similar window pops up, but instead of a green call button you will see a green circle with a plus on it. Press this button.

This allows you to add that person to your contact list and ask them to accept your contact request.