How to Find Skype Contacts
How to Find Skype Contacts
Calling Skype contacts is easy, but before you can call them, you have to find them. Fortunately, Skype's search page makes finding contacts as simple as typing a couple of words and clicking a few simple fields.
You can easily search for fellow skypers. To do that, follow these steps:
1

Locate the Windows Start button on the lower-left corner of your desktop and choose Start→Skype to launch Skype.

The Sign In to Skype window opens.
2

Enter your Skype username (that is, your Skype Name) in the Skype Name box.
3

Enter your Password in the Password box.

If you put a check mark in front of Sign me in when Skype starts, it will automatically log you in. If you put a check mark in front of Start Skype when computer starts, Skype will start automatically when your computer starts and you can just click on the Skype icon at the bottom right side of the Windows desktop to start using Skype.
4

Click Sign In.

The Skype program window opens. The menu across the top contains Skype, Contacts, Conversation, Call, View, Tools, and Help.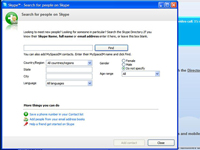 5

From the Skype menu, choose Contacts→Search for Skype Users.

Alternatively, you can enter the name, e-mail, or Skype name into the box that says Search Contacts, Groups and Conversations on the main Skype screen to bring up a Search window. If the name you search for is in your contact list, it appears on the screen. If that person is not in your contact list, Skype tells you that and you click on Search Directory to search further. A screen with the search results will appear.
6

Enter the person's name in the uppermost text box.

You can start your search by entering a full name, an email address, or a Skype Name. You can also add MySpaceIM contacts by entering their MySpaceIM name.
7

Click Find.

Skype searches through its directory to find the name you entered. When found, this name appears in the lower half of the Search window. If the name is not found, proceed through the following steps, selecting whichever ones might help narrow down your search.
8

Enter location information into the Country/Region, State, and City fields.
9

Select a language from the Language drop-down list.

Language searches work best in combination with other parameters unless you are looking for something very specific, such as people who speak Vighur, Volapuk, or Shona living in Manhattan, Kansas.
10

Select a gender from the Gender buttons.
11

Select an appropriate age in the Age Range dropdown.
12

Click Find to find skypers matching your search terms.

Scroll through the results of your inquiry. If you do not see the skypers you want to contact, change the parameters and search again.