How to Delete a Bulletin in MySpace
How to Delete a Bulletin in MySpace
If, for some reason, you think that you might not want people to see the bulletin that you just posted on MySpace, there's an easy way to delete it from MySpace quickly. Follow these steps to get rid of your MySpace bulletin.
1

Go to the Bulletin Space on your profile page and click the View All link.

This takes you to the Bulletin Board window.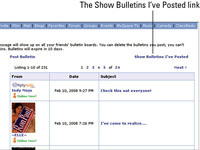 2

Click the Show Bulletins I've Posted link on the top-right side of the window.

When you click the Show Bulletins I've Posted link, you see a list of the bulletins you've posted. Remember, any bulletins you post expire in ten days and won't be available for viewing.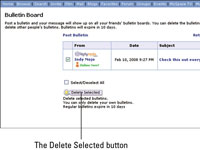 3

Select the check box to the left of the bulletin that you want to delete and then click the Delete Selected button located below the list of bulletins.

You deleted the bulletin from MySpace completely, and it'll be removed from all your friends' My Bulletin Space as well. Also, there's no confirmation prompt when you delete one of your bulletins, so make sure that you definitely want it removed before you delete it.