How to Create and Send a Message on MySpace
How to Create and Send a Message on MySpace
When surfing MySpace, you're never far from creating and sending your next message. The first step is to find the user you want to contact. The most common way to send a message is by using the Send Message link on another MySpace user's profile. This is especially important when introducing yourself to someone new.
After you land on a profile that you think looks message-worthy, follow these steps to contact the individual.
1

Locate the MySpace user you want to contact.

You can type the specific MySpace link for a known contact (www.myspace.com/xxx) or, if the known contact is in your Address Book, you can contact the person from there as well.

Browsing is a great way to find other users by using certain designated criteria. Click the Browse link at the top of your MySpace profile page. Narrow your results by specifying search options such as gender, age, and location. When the results are displayed, click any of the profile pictures to be taken directly to that user's profile page.

You can also try searching, a keyword-based method of finding other MySpace users that gives more of a snapshot view of a user's info when searched. Click the Search link at the top of your MySpace profile page. This takes you to the main search page, where you can search users by keywords, display name, real name, e-mail address, school/university, or networking affiliations. After you've entered your search criteria and are given results, click the profile picture (or click the View Profile link) of any user to be taken to the profile page.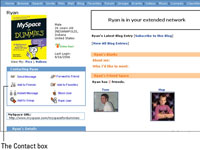 2

When you've found the user you want to contact, locate the Contact box on the user's profile page.

The Contact box is usually located directly beneath the profile picture on each MySpace page. The Contact box has several options available. The link to send a message is always in the upper-left corner of the Contact box.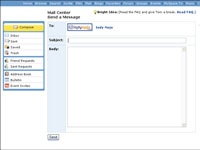 3

Click the Send Message link in the Contact box.

This takes you to the Send a Message window in the Mail Center, which will automatically be in the correct mode so a new message can be composed. The To: information is already set based on the user that you're contacting. Composing a MySpace message is similar to composing an everyday e-mail.
4

Fill in the Subject and Body fields for the message in the Send a Message window.

When composing your message, you don't need to include a Subject, but to send it, you must enter some content into the body of the message. Messages can include HTML, which means that you can use links, images, and so on in the body.