How to Block MySpace Users
How to Block MySpace Users
You can block other MySpace users so that the person can no longer contact you at all through MySpace. That means (s)he can't comment your page — or send you any message that you actually receive.
If you block users who are in your Friend List, they're removed. If they send out a bulletin, it won't show up in your Bulletin Space. Blocked means blocked out — they'll be cut off completely from communicating with you via MySpace.
Other users don't know when you block them; they have no idea what blocked lists they are on. All they might notice (if they get a clue) is that you aren't answering.
If you block someone, that person can still view your profile unless you have it set to private. If the blocked person creates a different account on MySpace, he can use the new account to contact you — and if that happens, just block the new account as well.
If you're ready to add someone to your Blocked Users list, follow these steps to make sure you don't have to deal with that person on MySpace ever again.
1

Go to the MySpace profile of the person you want to block.

The only place to block a user is directly from her profile.

You can block a user even if they have their profile set to private.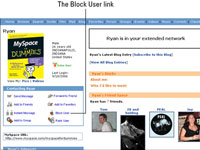 2

Locate the Block User link in the user's Contact box.

After you find the profile of the user you want to block, locate her Block User link. It's located in the user's Contact box on her profile page.
3

Click the Block User link and confirm that you want to block the user.

After you click the Block User link, MySpace will ask you, Are you sure you want to block this user? If you do, click OK.