How to Play Music on Your Windows Laptop
How to Play Music on Your Windows Laptop
Many users like to play music directly from their laptop. This is easily done by using the Windows Media Player. This player allows you to do most things you will want to do with your music collection
1

Open Windows Media Player by clicking the All Apps button on the Start screen.

Scroll to the right and then click Windows Media Player in the list of apps that appears.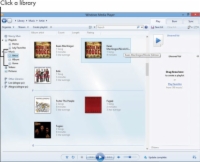 2

Click the Library button and then double-click Music or Playlists to display a library.

Double-click an album or playlist to open it; the song titles are displayed in the right pane.

3

Use the buttons on the bottom of the Player window to do the following:

Click a track, and then click the Play button to play it. When a song is playing, this button changes to the Pause button.

Click the Stop button to stop playback.

Click the Next or Previous button to move to the next or previous track in an album or playlist.

Use the Mute and Volume controls to pump the sound up or down without having to modify the Windows volume settings.

Tired of the order in which your tracks play? You can use the List Options button (the button looks like a box with a down arrow near the top on the far right on the Play pane) and choose Shuffle List to have Windows Media Player move around the tracks on your album randomly. Click this button again (it sports wavy arrows) to turn the shuffle feature off.

To jump to another track, rather than using the Next and Previous buttons, you can double-click a track in the track list in the Media Player window. This can be much quicker if you want to jump several tracks ahead or behind of the currently playing track.