How to Arrange Icons on Your Laptop's Desktop
How to Arrange Icons on Your Laptop's Desktop
Everyone has their own list of things to do and places to be. Arranging the icons on your desktop can make you faster and help you get the most out of your computer.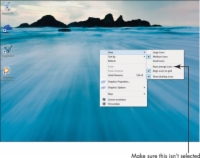 1

Right-click the Desktop and choose View from the resulting shortcut menu; be sure that Auto Arrange Icons isn't selected.

If it is selected, deselect it before proceeding to the next step.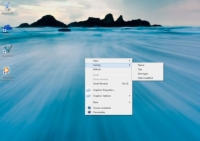 2

Right-click the Windows Desktop.

From the resulting shortcut menu, choose Sort By, and then click the criteria for sorting your Desktop shortcuts.
3

You can also click any icon and drag it to another location on the Desktop — for example, to separate your favorite game from other Desktop icons so you can find it easily.

If you've rearranged your Desktop by moving items hither, thither, and yon and you want your icons in orderly rows along the left side of your Desktop, snap them into place with the Auto Arrange feature. Right-click the Desktop and then choose View→Auto Arrange Icons.

Use the shortcut menu in Step 1 and choose Large Icons, Medium Icons, or Small Icons in the View submenu to change the size of Desktop icons.