Working with Two Surface Apps on One Screen
Working with Two Surface Apps on One Screen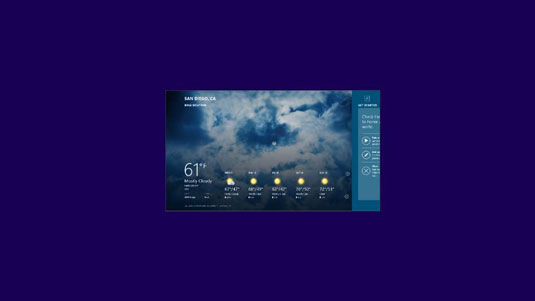 15
Open an app that you'd like to use and snap it to the screen's left or right.
Tap an app from the Start menu to open it. When it fills the screen, slide your finger down from the screen's top until the app turns into a small window on a blank screen.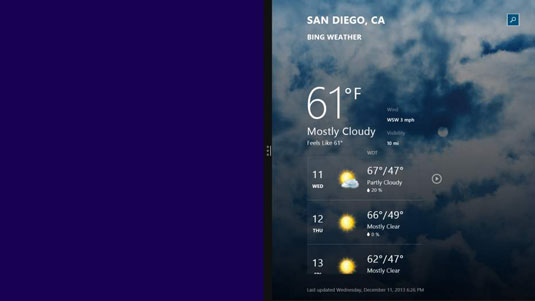 25
Then, drag the app to the screen's left or right side; when a horizontal line appears, lift your finger; the app "snaps" to the closest edge.
If you're using a mouse, point at the top of the app and, while holding down the right mouse button, drag the app downward. When the app shrinks, drag it to the left or right side of the screen to snap it into place.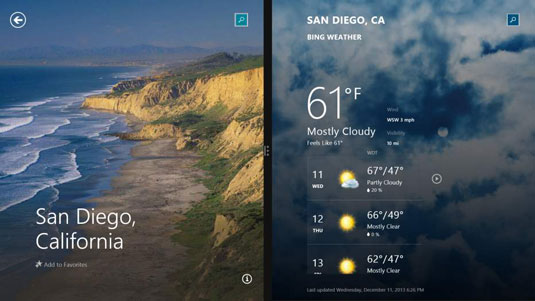 35
Return to the Start screen and open a second app; it snaps to the opposite side of the screen.
When you open the second app, it automatically snaps to the empty side of the screen, leaving both apps onscreen.

45
To resize the apps, drag the divider between them.
Find the three dots on the line separating the two snapped apps. Then drag those three dots to the left or right side, depending on which app you want to enlarge.
To close a snapped app, drag the three dots all the way toward the app you want to close; when your finger reaches the edge, the app disappears from the screen. (It stays running in the background, though, so you can return to it later.)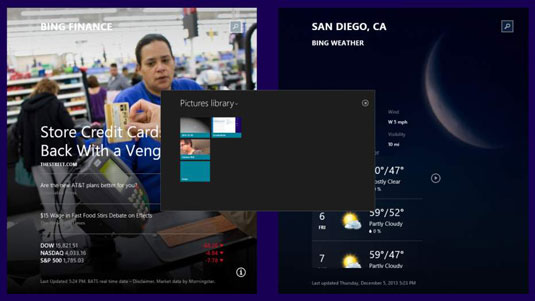 55
If desired, replace a snapped app with a different one.
If you revisit the Start screen and open a third app, that app opens as a small window on top of the other two. Tap the app you don't want, and the hovering third app jumps in to replace it.
By opening and snapping apps, dragging the divider between them, and replacing snapped apps with others, you can make the most of the Start screen's formerly full-screen apps.
Want to snap an app that's already open? Reveal all of your open apps by sliding your screen in about an inch from the left edge and then back again. A row of thumbnail-sized apps appears, representing your open apps. Drag any of those thumbnails to the screen's left or right edges, and it snaps to that side.
You can also snap apps alongside the Windows Desktop app, a handy way to keep an eye on e-mail while working.