Create a Private Mode on Your Galaxy S7
Create a Private Mode on Your Galaxy S7
To keep your private images or texts secure, you need to create a private mode on your Samsung Galaxy S7. Here is how it works logically. First, you turn private mode on. You use a pattern, PIN, or password (again, it is up to you if you use the same or different pattern, PIN, or password). Then you select which images and files you want to be private.
When private mode is on, you can see these files and that they are marked private. When private mode is off, these files do not show up. It is as if they never existed in the first place.
When you turn private mode back on, which involves using your pattern, PIN, or password, it is all there, and works as good as new. The following steps walk you through this process.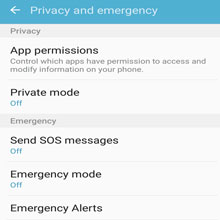 1

Tap the Settings icon and then tap the Lock Privacy and emergency link.

This brings up the options seen here.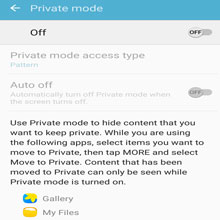 2

Tap the Private mode link.

This brings up the options seen here. Each option prompts you through what it needs before establishing your security selection.

To reduce the likelihood that you get caught by forgetting to turn privacy mode off, use the Auto off option seen. Selecting this option will automatically turn privacy mode to off when you turn off your phone. You need to go to the trouble of turning privacy mode on, but it reduces the chances that you will forget.
3

Tap the toggle to on. Enter your pattern, PIN, or password selection.

Again, old hat. You are now in private mode. You can now go find the image or file you want to make private.
4

Open the Gallery and find that "special" image you want to keep for you, but not for prying eyes.

This could also be any document you access with the My files app.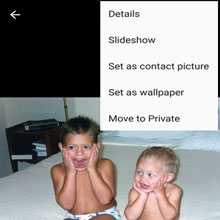 5

While in Private mode, tap on the image to select it and again on the image to bring up the More link.

This brings up the image and a pop-up as seen here.