Settings for What iPhone Looks Like, Sounds Like, and Reports
Settings for What iPhone Looks Like, Sounds Like, and Reports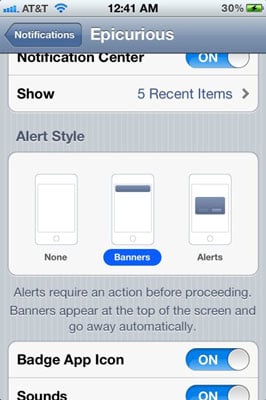 15
The Notifications Settings on your iPhone.
One of the biggest additions that came to the iPhone via the iOS 5 upgrade was Notification Center. By swiping down from the top of the screen, you can receive a variety of notifications, from missed calls and texts to appointments.
Under Notifications Settings, you can choose which apps report information in Notification Center and choose whether these apps should be sorted manually or by time, that is, the order in which they come in.
After you determine which apps belong in Notification Center, tap the app listing in the In Notification Center roster and choose an alert style (a banner that appears at the top of the screen momentarily before it disappears or an alert, which requires you to do something before it goes away).
You can turn off notifications for individual apps. Simply tap an app in the In Notification Center list, and turn on or off the app's sounds, alerts, or badges.
You'll also find a setting here for the Do Not Disturb feature added in iOS 6. When turned on, the iPhone is respectful of your wishes to not be bothered by needless phone calls or alerts. The moon icon in the status bar reminds you that the feature is turned on.
You can schedule the time that the Do Not Disturb edict is in effect and customize it to allow calls from your favorites or designated contacts. You can also turn on a Repeated Calls option that bypasses Do Not Disturb if the same caller rings you twice within three minutes.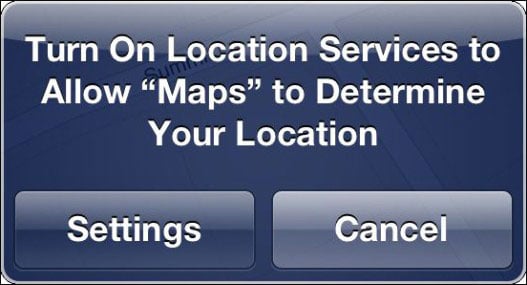 25
Your iPhone can protect your privacy or give away your location.
The iPhone makes good use of knowing where you are in the Maps app and several other apps and by geotagging photos taken with its camera. The iPhone exploits built-in GPS but can also find your general whereabouts by triangulating signals from Wi-Fi base stations and cellular towers.
If your iPhone knowing your location creeps you out a little, don't fret. To protect your right to privacy, individual apps pop up quick messages, asking whether you want them to use your current location. But you can also turn off Location Services by going to Settings→Privacy. Not only is your privacy shielded, but you also keep your iPhone battery juiced a little longer.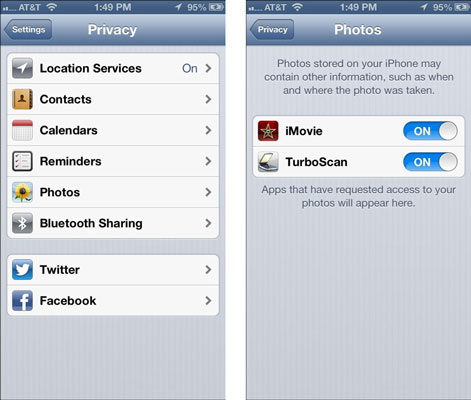 35
Figure out which apps are requesting your private information.
If you scroll all the way down Location Settings and tap System Services, you'll see a bunch of location settings tied to your cell network, your compass calibration, diagnostics and usage, Genius for apps, location-based iAds, time zone settings, and traffic. You can turn any of these on or off as well.
When an app is using your location, you'll also see the location icon in the status bar at the top of the screen.
If you back out of the Location Services section of Privacy Settings to the main Privacy Settings screen you'll see a list for Contacts, Calendars, Reminders, Photos, Twitter, Facebook, and Bluetooth Sharing. Tap any one of the items to see the other apps that have requested access to the selected app.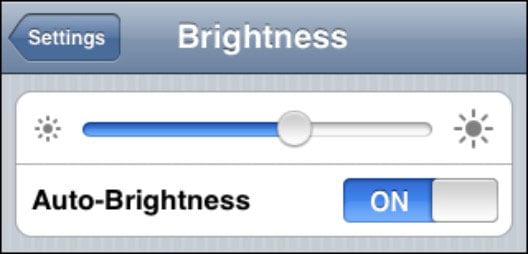 45
Adjust your iPhone screen's brightness.
Who doesn't want a bright, vibrant screen? Alas, the brightest screens exact a trade-off: Before you drag the brightness slider to the max, remember that brighter screens sap the life from your battery more quickly.
Tap the Auto-Brightness control so that it's on. This control adjusts the screen according to the lighting conditions around the iPhone while being considerate of your battery.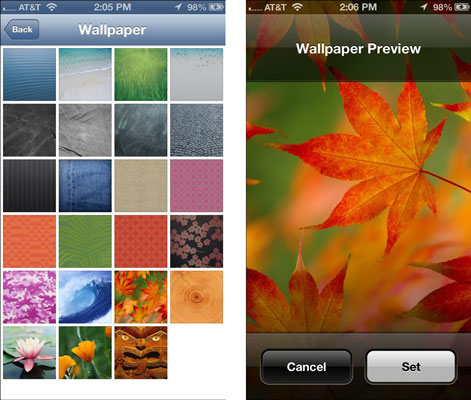 55
Choose the wallpaper you want on your iPhone.
Choosing wallpaper is a neat way to dress up the iPhone according to your taste. You can sample the pretty patterns and designs that Apple has already chosen for you by tapping the thumbnails shown. But stunning as they are, these images may not hold a candle to the masterpieces in your own photo albums.
After making a selection, tap the image, and then tap Set. You can set wallpaper for the Home screen, the Lock screen, or both by tapping the appropriate button. The Home and Lock screens can have the same or different images.