Share Web Pages with Your Droid Bionic
Share Web Pages with Your Droid Bionic
The Android operating system on the Droid Bionic lets you easily share information you find on your phone. With regard to the web pages you visit, you can easily share a link to the page you're viewing in the Browser app.
1

Visit the page you want to share.

Any page on the web will do.

2

Touch the Share button found at the top of the screen.

It's the traditional Share command icon, as shown in this figure.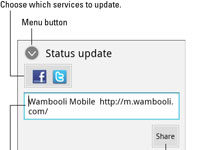 3

Fill in or edit the text field to share the web page link on your social networking sites.

This figure shows your options. Or, if you'd rather share the link another way, continue with Step 4.
4

Touch the menu button to display additional ways to share the web page.

A pop-up menu of places to share appears. The variety and number of items on the Share Via menu depends on the applications installed on your phone. For example, you might see a notepad app available for pasting the link, if you have such an app installed.
5

Choose a method to share the link.

For example, choose Email to send the link by mail or Text Messaging to share via a text message.
6

Do whatever happens next.

Whatever happens next depends on how you're sharing the link.

Most likely, whatever happens next opens another application, where you can complete the process.