How to Take a Picture with Your Droid X's Camera
How to Take a Picture with Your Droid X's Camera
To use your Droid X phone as a camera, you need to know that the back of the phone holds the lens. When you have your Droid camera correctly positioned, you can snap as many pictures as you want (or as many as your phone can hold).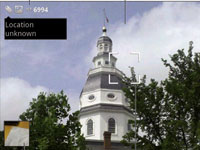 2

Choose the Camera app.

The main Camera screen appears. The controls shown in the figure eventually disappear, leaving the full screen to preview the image.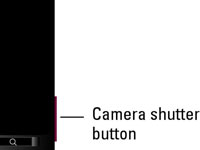 3

Point the camera at the subject and touch the Shutter button.

Like on other digital cameras, the shutter doesn't snap instantly when you shoot the picture; the camera takes a moment to focus, the flash may go off, and then you hear the shutter sound effect. For a second, the picture you just snapped appears on the phone's touch screen. Then the phone returns to Camera mode, and you can take more pictures.
4

To examine your new image, double-tap the touchscreen.

You can either spread your fingers to zoom in or pinch them to zoom out.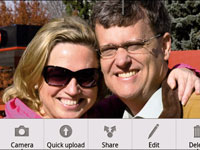 5

To work with the image, press the Menu soft button.

A menu of options appears at the bottom of the screen.
6

Touch the Share button to instantly share the image with friends on the Internet.

You can share by email or text message, or by using social networking sites such as Facebook and Twitter, if you have the Droid X configured for use with those apps. Other options, such as sharing with the Picasa photo-sharing Web site, might also appear on the Share button's list.
7

Touch the More button to access additional menu items.

One such item, Set As, lets you instantly assign the photo as the Home page wallpaper (background image) or to set the image for a contact.
8

If the image doesn't meet your liking, touch the Delete button.

Then touch the OK button when prompted to confirm the deletion.
9

When you're done, touch the Camera button.

You return to the Camera app, where you can take more pictures.