How to Send a Text Message to a Phone Number on Your Droid X
How to Send a Text Message to a Phone Number on Your Droid X
The program that handles texting on your Droid X is called Text Messaging. You may want to create a contact for anyone you plan to message. But if you don't want to first create a contact, you can still send any cellphone a text message.
1

Touch the Launcher button on the Home screen.

The Applications Tray appears.
2

Touch the Text Messaging app.

The Text Messaging app opens. You see a list of current conversations (if any), organized by contact name or phone number.
4

Input a cellphone number in the To field.

The onscreen keyboard automatically appears, though you have to touch the ?123 key to see the number keys. When the number you type matches one or more existing contacts, you see those contacts displayed. Choose one to send a message to that person; otherwise, continue typing the phone number.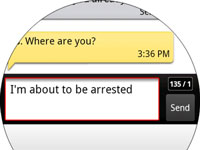 5

Touch the Enter Message Here text box and type your text message.

Keep it short because a text message can have only up to 160 characters.
6

Touch the Send button to send the message.

The message is sent instantly. You can wait for a reply or do something else with the phone, such as snooze it, or you can even talk with a real person, face to face. If you have no other options, you can always get back to work.