How to Send a Text Message to a Contact on Your Droid X
How to Send a Text Message to a Contact on Your Droid X
The program that handles texting on your Droid X is called Text Messaging. The Droid keeps it simple. The nerdy term for texting is SMS, which stands for Short Message Service. Because most cell phones sport a text-messaging feature, you can send a text message from your Droid to any of your contacts (as long as they have cell phones):
1

Open the Contacts icon on the Home screen.

The Contacts icon is to the right of the Launcher button.
2

Choose a contact, someone to whom you want to send a text message.

You can choose a contact from the Contacts list or from your list of favorites.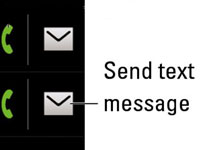 3

Touch the Message icon next to the contact's mobile number.

A message composition window appears, which also tracks your text conversation.
5

(Optional) Press and hold the :-) button on the onscreen keyboard and make a selection.

You can insert a whole range of smiles and other symbols (emoticons) into your messages instantly.
6

Touch the Send button.

The message is sent instantly. Whether the contact replies instantly depends. When the person replies, the message appears onscreen, so go ahead and read it.
7

Repeat Steps 4, 5, and 6 , as needed — or eternally, whichever comes first.

There's no need to continually look at the phone, waiting for a text message. Whenever your contact chooses to reply, you see the message recorded as part of an ongoing conversation.