How to Rate and Uninstall Apps on Your HTC One
How to Rate and Uninstall Apps on Your HTC One
Providing feedback to an application is an important part of maintaining the strength of the Android community. It's your responsibility to rate applications honestly. (Or you can blow it off and just take advantage of the work others have put into the rating system. It's your choice.)
If you want to make your voice heard about an application, here are the steps: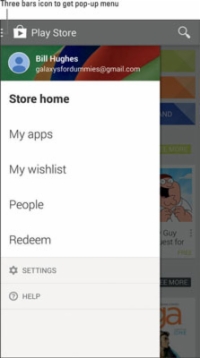 1

Open the Play Store and tap the three bars to the left of the Play Store icon.

Doing so brings up a pop-up menu like the one shown. This image highlights the three bars in case you are having trouble finding them.
2

Tap My Apps.

The screen lists all the apps on your phone. Keep on scrolling down. You'll eventually see them all.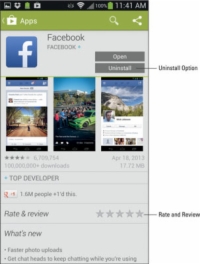 3

Tap an app.

If you love the app, rate it highly. You can rank the app and tell the world what you think.
4

Rate it (and if you want to, uninstall it).

If you hate the app, give it one star and blast away. Then you can remove it from your phone by tapping the Uninstall button.