How to Link Contacts to Your HTC One
How to Link Contacts to Your HTC One
As slick as your HTC One is, it isn't perfect. If a person goes by different names, you have to link these contacts. For example, if you create a contact for Bill Boyce, but your email refers to him as William D. Boyce, your phone will assume that these are two different people. No problem. Here are the steps to link the two contacts for the same person: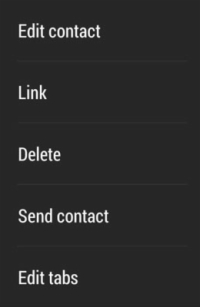 1

From one of the contacts, tap the menu icon (the three dots).

This brings up the screen shown.

Carefully choose the contact whose name you want to be the primary name. For example, tap the link on the William D. Boyce contact. That will be the name used on the combined contact going forward.
2

Tap the link that says Link.

When you tap the link that says Link, your phone will try to help you with some options on where the other contact is stored, such as Facebook, Skype, and LinkedIn.
3

Tap Other Contacts to link the other contact entry on your phone.

Bill Boyce is stored on the phone, so tap the Other contacts.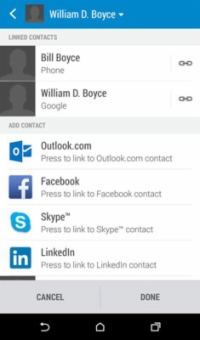 4

Search for the other contacts you wish to link.

Search for Bill Boyce in the text box. It will come up and the two contacts are forever linked.
5

Tap Done.

Let no man put this link asunder. (Unless you made a mistake and want to change it. Then go tap the chain icon to break the link.)