Droid Bionic: Compose a New Text Message
Droid Bionic: Compose a New Text Message
Because most cell phones sport a text messaging feature, you can send a text message to just about any mobile number with your Droid Bionic. If you want to send a text message to a contact, it works like this:
1

Open the Contacts app, or somehow finagle the contact list.

This is where you start.
2

Choose a contact, someone to whom you want to send a text message.

You can also send a message to a contact group by using the group's Contact Quick Action menu.
3

Touch the Message icon next to the contact's mobile number.

The Message icon looks like an envelope, as shown.

The message composition window appears, which also tracks your text conversation.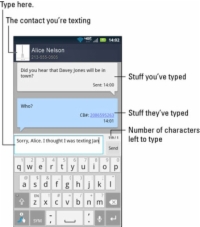 4

Type the message text.

Be brief. A text message has a 160-character limit. You can check the screen to see whether you're nearing the limit.
5

Touch the Send button.

The message is sent instantly. Whether the contact replies instantly depends. When the person replies, you see the message displayed.
6

Read the reply.

There's no need to continually look at your phone while waiting for a text message. Whenever your contact chooses to reply, you see the message recorded as part of an ongoing conversation.