Droid Bionic Calendar: Create a New Event
Droid Bionic Calendar: Create a New Event
The key to making your calendar work is to add events: appointments, things to do, meetings, or full-day events such as birthdays and earthquakes. To create a new event, follow these steps in the Calendar app:
1

Select the day for the event.

Use Month view or Week view, and touch the day of the new event.

To save time, use Day view and touch the hour at which the event starts.
3

Choose the event Calendar.

Calendars are something that's best set up on the Internet using a computer. Basically they let you organize your events by category and color. Also, you can show or hide individual calendar categories when you have a particularly busy schedule.
4

Type the event name.

For example, type Mammogram.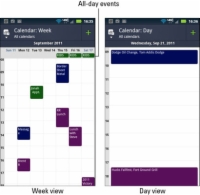 5

Use the buttons by Start to set the starting date and time.

When an event lasts all day, such as visiting your mother-in-law for an hour, simply touch the All Day button to put a check mark there. All-day events appear at the top of the day when the Calendar is shown in Week view (refer to the figure).
6

Use the buttons by End to set the ending date and time.

At this point, you've entered the minimum amount of information for creating an event. Any details you add are okay but not necessary.
7

Touch the Where field to enter a location.

The location can be used by the Maps app to help you get to your appointment. You should specify a location as if you're typing something to search for on the map.
8

Optionally, set or dismiss a reminder.

Reminders are nice, but if you forget about them they can be annoying. For example, if you forget to remove the reminder for an all-day event, the phone will make a noise at 15 minutes to midnight.