Android Phones For Dummies Cheat Sheet
Android Phones For Dummies Cheat Sheet
New to Android phones and need a little help? Get the most use out of your Android with some useful tips and handy advice: Learn how to peruse the home screen, familiarize yourself with common phone icons and touchscreen gestures, discover some tricks, and know where to go for help.
What's On the Home Screen of an Android Phone?
The main screen on an Android phone is called the Home screen. It's where all the action takes place: where you start the apps, work the widgets, and check out what's going on via notification and status icons.
Each phone may sport a different skin, or appearance. The stock Android phone Home screen is shown in the figure. You can find the items in the figure on your own phone's Home screen, although they may not look exactly the same.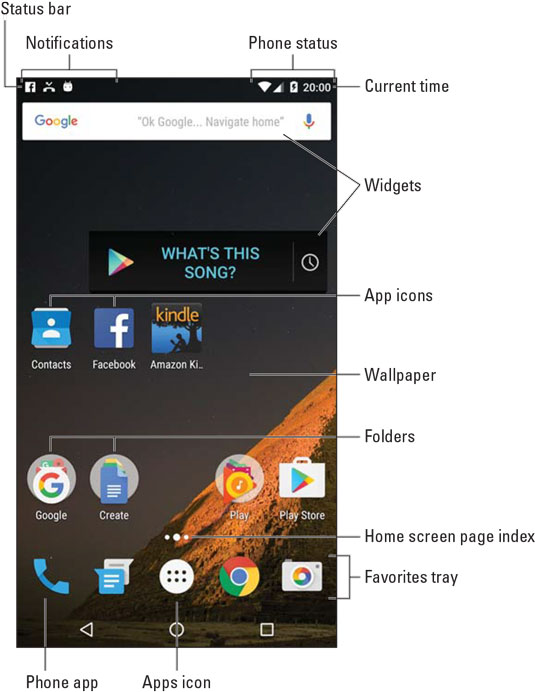 13 Android Phone Icons to Know
Android phones, as well as most Android apps, feature common icons. These symbols work as buttons on the touchscreen: Tap an icon to perform a specific task or action. The icons are quite consistent between the various apps you use. The most common icons are shown here.
Action Bar: Displays a pop-up menu. This teensy icon appears in the lower right corner of a button or an image, indicating that actions (commands) are attached.

Action Overflow: Displays a list of actions, similar to a menu.

Add: Adds or creates an item. The plus symbol (+) may be used in combination with other symbols, depending on the app.

Close: Dismisses a card or clears text from an input field.

Delete: Removes one or more items from a list or deletes a message.

Dictation: Lets you use your voice to dictate text.

Done: Dismisses an action bar, such as the text-editing action bar.

Edit: Lets you edit an item, add text, or fill in fields.

Favorite: Flags a favorite item, such as a contact or a web page.

Refresh: Fetches new information or reloads.

Search: Searches the phone or the Internet for a tidbit of information.

Settings: Adjusts options for an app.

Share: Shares information stored on the phone via email or social networking or other Internet services.

8 Finger Movements for Operating the Android Phone Touchscreen
On your Android phone touchscreen, you can perform several basic actions that carry out various day-to-day operations. It's just a matter of teaching your fingers to do what you want them to.
Action
How to Do It
Tap
Touch the screen.
Double-tap
Tap the screen twice in the same location.
Long press
Touch a spot on the screen and keep your finger held down.
Swipe
Touch a spot on the screen and drag your finger left, right,
up, or down.
Drag
A combination long-press and swipe, tap and hold a spot on the
screen and then move your finger. The effect is to relocate or resize
an item on the touchscreen.
Pinch
Use two fingers, spread apart, to touch the screen and bring
both fingers together as you continue to touch the screen.
Spread
Use two fingers close together and then spread them apart,
touching the screen as you spread them.
Rotate
Twist two fingers around a central point to rotate an image, a
map, or another object on the screen.
10 Android Phone Tricks to Remember
You'll feel like an expert user on the Android phone with this assortment of handy, time-saving tricks. Use them to boost your productivity — or your hopeless addiction to your Android phone:
Dictation! You can speak into the phone as an effective and quick alternative to using the onscreen keyboard.

Quickly switch between apps by using the Recent icon. If your phone doesn't have a Recent icon, long-press the Home icon.

You can add launchers and widgets to Home screen pages. Likewise, remove launchers and widgets you don't use.

Whenever possible, use the phone's Wi-Fi Internet connection to avoid incurring mobile data surcharges.

Long-press a key on the onscreen keyboard to peruse alternative characters.

Spread your fingers to zoom into a web page, which makes clicking links much easier.

Swipe the Camera icon on the Lock screen to snap a quick photo.

Quickly put the phone into Vibration mode by pressing the Down Volume key until the phone vibrates.

When you're on the phone, press the Power/Lock key to lock the phone and turn off the touchscreen.

Use the Search icon to look for things on the phone, on the Internet, or in a specific app.
Android Phone: 10 Places for Help and Support
If you ever happen to find yourself in really serious trouble with your Android phone, here is a smattering of trusted places to check out for help:
Cellular providers
Here are some support numbers you can dial from your cell phone:
AT&T, T-Mobile, Verizon: 611

Sprint Nextel: *2
Phone manufacturers
Google Android support