How to Add Launchers to Your Android's Home Screen
How to Add Launchers to Your Android's Home Screen
As you find yourself using an app frequently, consider slapping its launcher icon on the Home screen of your Android device. Here's how that works:
Visit the Home screen page on which you want to stick the launcher.
The page must have room for the launcher icon. If it doesn't, swipe the screen left or right to hunt down a page with room. If you're organizing Home screen pages by app type, visit the proper page. For example, on my Android gizmos, the second Home page is just for games.
Tap the Apps icon to display the Apps drawer.
Long-press the app icon you want to add to the Home screen.
After a moment, the Home screen page you chose in Step 1 appears, as shown. On some Samsung devices, you may see a pop-up showing several actions for the app icon. You can choose Add Shortcut to Home, though if you wait a tick, you can proceed with Step 4.
Drag the app to a position on the Home screen page.
Launchers are aligned to a grid. Other launchers may wiggle and jiggle as you find a spot. That's okay.
Lift your finger to place the app.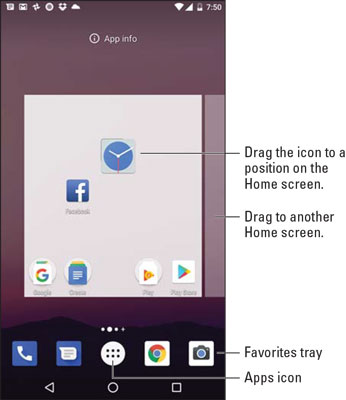 The app hasn't moved: What you see is a launcher, which is like a copy or a shortcut. You can still find the app in the Apps drawer, but now the app is available — more conveniently — on the Home screen.
Newly installed apps often automatically affix a launcher to the Home screen. If you want to remove that launcher, see the later section "Removing an item from the Home screen."
Not every app needs a launcher on the Home screen. I recommend placing only those apps you use most frequently.
The top row of the Apps drawer may list frequently accessed apps. Review this list to consider adding a frequent app to the Home screen if its launcher isn't there already.

You can't cram more launchers on the Home screen than will fit in the grid. As an alternative, consider moving launchers to another Home screen page. If your Android allows you to add more Home screen pages, you can solve the problem that way.