11 Ways to Make Your HTC One (M8) Secure
11 Ways to Make Your HTC One (M8) Secure
You'll want to take steps to protect your smartphone. This is the burden of having a well-connected device. Fortunately, most of the steps are simple and straightforward.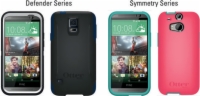 1

Use a good case and screen cover.

There are lots of choices for cases. The most popular are made of silicone, plastic, or leather. There are different styles that meet your needs from many manufacturers. Otterbox is a brand that makes a series of cases for multiple levels of protection.

You don't just use a good case so you can hand off a clean used phone to the next lucky owner. A case protects your phone against damage. If your phone is damaged, you have to mail it or bring it to a repair shop.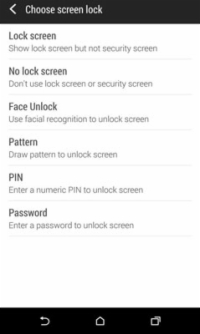 2

Put it on lockdown.

The most basic effort you can take to protect your phone is to put some kind of a screen lock on your phone. You have several choices, listed here in increasing degrees of security:

Unlock with a simple swipe across the screen

Show the lock screen, but not offer any additional security

Unlock with a pattern that you swipe on the screen

Unlock with facial recognition

Unlock with a PIN

Unlock with a password

Encrypt everything on your phone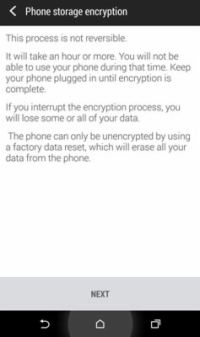 3

Encrypt your device.

You can never switch your phone back to non-encrypted use. With the screen lock options, you can use a PIN for a while, and then switch back to the pattern if you want.

Not so with the encryption option. You will never, ever, ever, ever, get it back together. If you encrypt your phone and then forget your password, your phone is bricked. In effect, its only future use would be in house construction; you won't be able to use it as a smartphone anymore.
4

Be careful with Bluetooth

Perhaps the greatest vulnerability your phone faces is called bluejacking, which involves using some simple tricks to gain access to your phone via Bluetooth.

When you're actively pairing, your Bluetooth device won't accept an unknown device's offer to pair. But if your device is both unpaired and visible, hackers can fool your Bluetooth device and force a connection.

Here's an important point: When handled properly, Bluetooth is as secure as can be. However, a few mistakes can open you up to human vermin with more technical knowledge than common sense. Avoid these mistakes and you can safely enjoy this capability.
5

Protect against malware.

One of the main reasons people write apps for Android is that Google doesn't have an onerous pre-approval process for a new app to be placed in the Play Store. This is unlike the Apple App Store or Microsoft Windows Phone Store, where each app must be validated. Many developers prefer to avoid bureaucracy.

At least in theory, this attracts more developers to do more stuff for Android phones. However, this approach does expose users to the potential for malware that can, inadvertently or intentionally, do things that are not advertised. Some of these "things" may be minor annoyances, or they could really mess up your phone (for openers).

Rather than simply avoiding new apps, you can download apps designed to protect the information on your phone.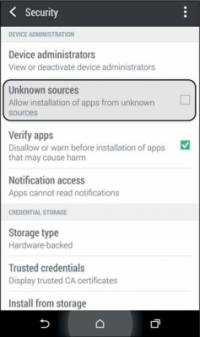 6

Don't download apps from just anywhere.

Another way to avoid malware is to download mobile software only from trustworthy websites. You can download Android apps for your phone from a number of other reputable sites, including PocketGear and MobiHand.

Keep in mind that these stores are always on the lookout to withdraw applications that include malicious software. Google uses an internally developed solution they call Bouncer to check for malicious software and remove it from the Play Store.
7

Buy antivirus software.

Rather than simply avoiding new apps from non-Google Play stores, you can download apps to protect the information on your phone. These are available from many of the firms that make antivirus software for your PC. Importantly, many of these antivirus applications are free. If you want a nicer interface and some enhanced features, you can pay. This is really a low cost way to have insurance.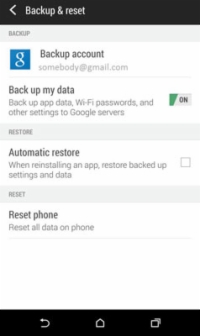 8

Back up your phone.

Have you considered backing up your phone? Although much of your information is accessible through your Gmail account, you'll still need to rebuild your connections and re-enter your passwords.

The good news is that it is really easy. In Settings, tap Backup & Reset. If the option Back Up My Data is checked, you're done. If it isn't checked, and you want to be backed up, tap the check box. Your Gmail account is the backup account.

If you need to restore your phone, tap Automatic Restore and follow the instructions. This could not be easier.
9

Rescue your phone when it gets lost.

There are apps that help you find your phone.

Remote Ring: By sending a text to your phone (with the code that you pre-programmed when you set up this service), your phone will ring on its loudest setting, even if you have the ringer set to Vibrate Only.

Map Current Location: This feature allows you to track, within the accuracy of the GPS signal, the location of your phone. You need access the website of the company with which you arranged to provide this service, and it will show you (on a map) the rough location of your phone.
10

Wipe your device clean.

As a last-ditch option, you can use mobile management software (MMS). MMS can remotely disable your device or wipe it clean.

Remote Lock: After your phone has been taken, this app allows you to create a four-digit PIN that, when sent to your phone from another cellular phone or a web page, locks down your phone. This capability is above and beyond the protection you get from your screen lock, and prevents further access to applications, phone, and data.

Remote Erase: Also known as Remote Wipe, this option resets the phone to its factory settings, wiping out all the information and settings on your phone.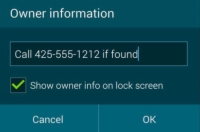 11

Put your contact number on the screensaver.

Here are the steps to put your contact information on your lock screen:

From the apps screen, tap the settings icon.

Tap Lock Screen.

Tap Owner Information.

Enter an alternative number if the phone is found.

This could be a home or work number or an email address. You don't have much space.