How to Send E-Mail Messages from Your Google Glass
How to Send E-Mail Messages from Your Google Glass
Before you send e-mail messages on your Google Glass, you need to add e-mail contacts via the MyGlass website or the MyGlass app on your smartphone. It's easy to send an e-mail message to someone else. Just follow these steps:
1

Say "OK Glass, send a message to."

Glass displays your contacts list.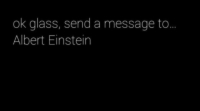 2

Speak the name of the intended recipient or select it by using the touchpad.

The Send Message To screen appears, as shown.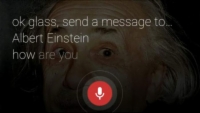 3

Speak your message.

As you do, the text appears below the recipient's name, as shown.

A couple of seconds after you stop speaking, the Glass screen shows a message for a few seconds so that you can cancel the send by swiping down on the touchpad. If you do nothing, you see the text on the screen for a second or two; then the message appears as a card on your timeline. The recipient sees the words appended to the end of the message.