How to Request a Call from a Glass Guide
How to Request a Call from a Glass Guide
One of life's axioms is that when you talk to technical support, you have to wait. Google gets around this problem by offering to have a Glass Guide call you when one is available. You need to log into your Google account and then visit the Google Glass Help website to get started. Next, follow these steps: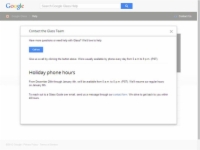 1

Click or tap the Contact Us link in the top-right corner of the Support home page.

The Contact Us page appears. Click or tap the Call Us button.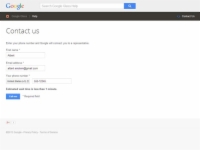 2

Type your name, e-mail address, and phone number in the appropriate fields.

The estimated time before a Guide will call you appears below the phone number.
3

Click or tap the Call Me button.

A new screen appears, thanking you for submitting the form and telling you that a Glass Guide will call you shortly.

The estimated time for a Glass Guide to call you is just an estimate. It may take less or more time for a Guide to call. Be sure to stay near your phone (or take your phone with you) and have the ringer turned on.