How to Ask for Google Glass Help by E-Mail
How to Ask for Google Glass Help by E-Mail
If your problem isn't a pressing one, and you prefer to talk with a Glass Guide online instead of on the phone, Google gives you two options. The first option is to send an e-mail message. The other option is to fill out a contact form on the Google Glass Help website, like so:
Click or tap the Contact Us link in the top-right corner of the page.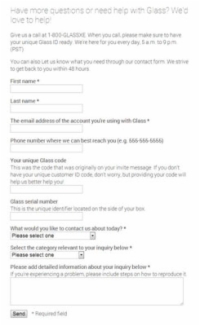 3

Fill out the contact form.

Items with an asterisk after them are required; you must fill in these boxes for Google to accept the form. If you don't fill in a required box, the form reappears, listing the boxes you need to fill in.
4

Click or tap the Send button.

A confirmation message appears, thanking you for your submission and promising that a Glass Guide will respond as soon as possible.

Google strives to reply to your e-mail message within 48 hours of receipt, but that's not a guarantee. If you find that Google hasn't responded to your request for help, you can always send a follow-up message or call Google for immediate help.

If you're close to the major U.S. metropolitan areas of New York, Los Angeles, or San Francisco, you can visit Glass Guides at Google Base Camps in those cities.