Generate a Quick Response Code for an Open Wi-Fi Network
Generate a Quick Response Code for an Open Wi-Fi Network
The first step in connecting to a Wi-Fi network in MyGlass is generating a QR (Quick Response) code for that network. If you're at a location that offers public Wi-Fi, such as a coffee shop or an airport, here's how to create a QR code for that public network: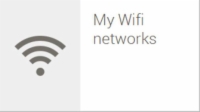 1

Tap or click the My Wifi Networks card on the home page.

The Add Network card appears so that you can add information about your Wi-Fi network.
2

Type your wireless network name in the Enter Network Name field.

Type the password (if one is required) in the Click to Enter Password field.

Passwords are case-sensitive.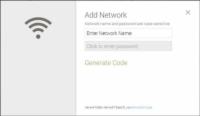 3

Tap or click Generate Code.

This link is active only when you've entered all the information for your Wi-Fi network. If the link is disabled, check your settings to ensure that you named your network properly, selected the correct encryption method, and entered a password if necessary.

After you select Generate Code, a QR code appears onscreen. This code allows you to add the Wi-Fi network.