Generate a Quick Response Code for a Hidden Wi-Fi Network
Generate a Quick Response Code for a Hidden Wi-Fi Network
You can create a QR code for two types of Wi-Fi networks: an open network, which doesn't require a password, and an encrypted (or hidden) network, which requires a password. To create a QR code for a hidden network, follow these steps: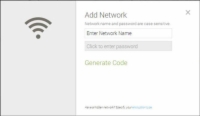 2

At the bottom of the card, tap or click the Encryption Type text link.

Type your wireless network name in the MyWifiNetwork field.
3

Type the password in the password field.

Note that passwords are case-sensitive.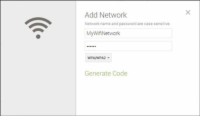 4

Select the Wi-Fi encryption method by tapping or clicking the WPA/WPA2 button.

You see three encryption options in the drop-down menu: None, WPA/WPA2, and WEB.
5

Select the appropriate encryption method.

If you don't know which encryption method the network uses and/or the network password, consult the staff of the location that offers the Wi-Fi service.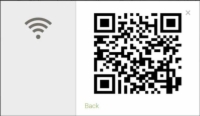 6

Tap or click Generate Code.

This link is active only when you've entered all the information for your Wi-Fi network. If the link is disabled, check your settings to ensure that you named your network properly, selected the correct encryption method, and entered a password (if necessary).

After you select Generate Code, a QR code appears onscreen. This code allows you to add the Wi-Fi network.