2 Games and Leisure Apps for Google Glass
2 Games and Leisure Apps for Google Glass
Google believes that you can play as hard as you work on Glass, so a good many apps allow you to enjoy your hobbies and down time. Following are a couple of leisure apps that you can download and check out to see whether they're right for you.

1

Allthecooks

The Allthecooks app is almost like having a variety of cooks in the kitchen with you. The app gives you access to more than 150,000 recipes that have been added to its database by Allthecooks personnel as well as other Allthecooks members. You can contact those members to get feedback about recipes and ask questions.

When the app is running, you can say "OK Glass, find a recipe for. . ." and then the name of the dish you want, such as pizza. When you access a recipe on Allthecooks, the recipe appears on the Glass screen in step-by-step format so you can prepare the recipe without having to use your dusty and/or greasy fingers to flip pages in a cookbook.

The first step of each recipe tells you how long it takes to prepare, how many people it serves, and how much of each ingredient you need. You can move to the next step by swiping forward on the touchpad. If you want to go to the previous step, swipe backward on the touchpad.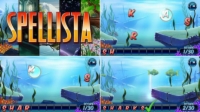 2

Spellista

If you enjoy solving puzzles and/or want to give your kids a creative and fun way to learn to spell, consider downloading the Spellista app. This app contains a variety of puzzle games that challenge you to spell words based on clues. As you complete each game, you rack up points. The puzzles get increasingly difficult with each game.

What's more, you can create your own games and share them with friends and family members. You can create puzzle games based on different themes. You can even use your camera to create game-screen backgrounds.