How to Use the News App on Your Windows 10 Laptop
How to Use the News App on Your Windows 10 Laptop
The News app is one of the apps represented by a tile in the Start menu on your laptop. If you want to keep up to date with the world at large, consider using the Windows 10 News app.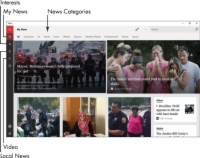 1

Click the Start button and then click the News tile (look for the tile with the word News in the bottom-left corner).

The News app opens showing current headlines and a scrollable list of news categories such as Sports, World, Technology, and Entertainment.
2

Click a news category at the top of the screen.

These categories include topics such as World, Technology, Politics, and Entertainment.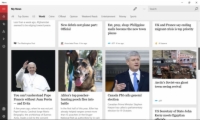 3

Click and drag the vertical scroll bar on the right to scroll down and view the headlines.

Click any story that sounds of interest to display it.
4

Use the arrows on the middle of the right and left sides to move to the next or previous page or story.

Click the arrow in the top-left corner to go back to the headlines for the news category you selected.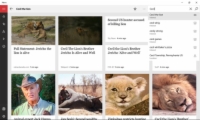 5

Type a term in the search field at the top right of the News app and click the search icon to see headlines related to that topic. Click a headline to read the story.

To add the topic to the news categories along the top of the News app click the Add Interest button (the star-shaped icon to the left of the search field).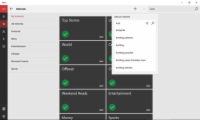 6

Click the Interests button in the toolbar on the left and click the Add an Interest button; the drop-down box appears.

Enter a new interest here.
7

Click a check mark in a red circle on an interest to remove it.

It will no longer appear in the list of categories on the News home page.

The News app also includes access to Local news, Videos, and Interests on the toolbar on the left side of the window.