Troubleshoot a Slow PC in Windows 7
Troubleshoot a Slow PC in Windows 7
One way you can evaluate PC sluggishness in Windows 7 is to use the performance troubleshooter. This tool exists as an option for Windows 7 users only. It is not available in Vista or XP. It doesn't always find the issue for you, but occasionally it can pin point the issue so you can fix it. So why not give it a try?
1

Open the Control Panel.

You'll find the Control Panel icon on the Windows Start menu.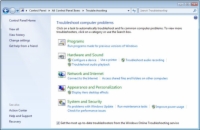 2

Beneath the System and Security heading, choose Find and Fix Problems.

The Troubleshooting window is displayed.
3

Choose the link Check for Performance Issues.

The link is found beneath the System and Security heading at the bottom of the dialog box.
4

Click the Next button in the Performance Wizard window.

What happens next depends on what the troubleshooter finds.
5

If the troubleshooter recommends that you check programs to improve start-up performance, click the Next button.

Do not click the Start System Configuration button. Clicking it brings up the MSCONFIG utility to let you disable various start-up programs. This will only speed up the start-up process in your computer.
6

Click the Next button.

The wizard attempts to find other problems. If it finds other problems, you can act on them accordingly.
7

Click the Explore Additional Options button.

This option is only useful if you haven't already located the problem in an earlier step.
8

Click the Close button.

The Windows 7 Performance Troubleshooter closes.