How to Use the Windows Help and Support Center in Windows Vista
How to Use the Windows Help and Support Center in Windows Vista
Getting help with computer problems is easier than ever when you use the Windows Vista Help and Support Center. The new Vista Help interface offers a more streamlined and intuitive experience compared to XP's Help Center. When you don't know where else to start, fire up Vista's Help and Support center and begin digging at the top.
To summon the program, choose Help and Support Center from the Start menu or press the F1 key from any Windows screen or the Desktop. The Help and Support Center rises to the screen packed with newly beefed up tables, charts, and step-by-step instructions for you to follow.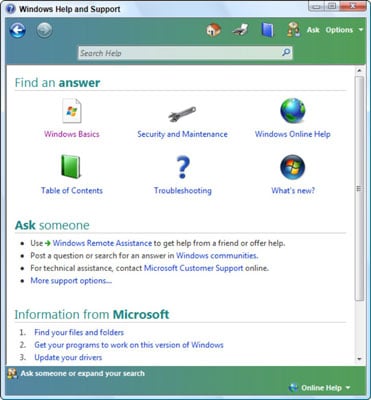 The program offers three sections: Find an Answer, Ask Someone, and Information from Microsoft. Start with the Find an Answer section, which summons help about these topics:
Windows Basics: If you're new to computers and Windows, head here first. It walks you through the Vista's basics: understanding the mouse, keyboard, desktop, Start menu, taskbar, files, folders, and other Windows things everybody thinks you already know.

Security and Maintenance: This area offers things people put off until something's wrong. For example, ensuring that your PC's security systems are turned on, diagnosing potential problems Vista's noticed with your PC, and making sure that your PC's stocked with the latest fixes from Windows Update.

Windows Online Help: This tells the Help program to display Vista's online Help page at Microsoft's Web site. That site's often more up-to-date than Vista's built-in Help program, but it uses more technical language.

Table of Contents: Just as you'd expect, clicking here brings up a table of contents listing every subject. Click any subject to see subheadings, letting you branch off in the direction you're after.

Troubleshooting: The spot to head when something's not working, this lets you diagnose and fix problems with networking, the Internet, e-mail, and the way your PC's parts interact with Vista.

What's New?: Windows XP users who are curious about why they upgraded can click here for a rundown on what's new in their particular version of Vista.
The Windows Help and Support program works much like a Web site or folder. To move back one page, click the little blue Back arrow in the upper-left corner. That arrow helps you out if you've backed into a corner.
The second section, Ask Someone, walks you through establishing a Remote Assistance session. The Ask Someone section is helpful only if you've found that rare individual who's willing to connect to your PC over the Internet and sort out your problems for you.
The section's last option, Contact Microsoft Customer Support Online, takes you to Microsoft's Knowledge Base, a database of Windows problems written in technical language for Internet professionals.
The Help and Support section's last area, Information from Microsoft, lists the top questions asked at Microsoft's online support site. It's worth a try only on the chance you spot your question among the three listed.