How to Run Windows Update in Windows XP
How to Run Windows Update in Windows XP
Windows XP lets you set Windows Update to automatically download the updates you need to keep your computer secure. Running Windows Update ensures that your PC has the latest security patches and changes to XP, and it gives you the opportunity to install optional drivers and software.
If you're running Windows XP on a network, it's possible that your network security settings could stop you from using the Windows Update feature. Ask your network administrator.
1

Connect to the Internet.

Okay, so you're probably already connected and reading this right now, but some of you may have printed out these steps to save them for later so we hate to not include this important step!
2

Navigate to Windows Update.

You can navigate to Windows Update by choosing Start→All Programs→Windows Update.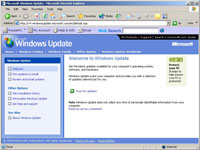 3

Click the Scan for Updates link.

This link appears on the Windows Update Web page that results from choosing Windows Update.
4

Click the Review and Install Updates link.

When the scan is complete, the Pick Updates to Install page appears.
5

Review the recommended updates.

Use the scrollbar to review the updates, clicking the Remove button for any that you don't want to install.